This column reflects the opinion of the writer. Learn about the differences between a news story and an opinion column.
Opinion > Column
Doug Clark: Family's ad leads to stolen 63-year-old Jeep's recovery
Thu., Oct. 9, 2014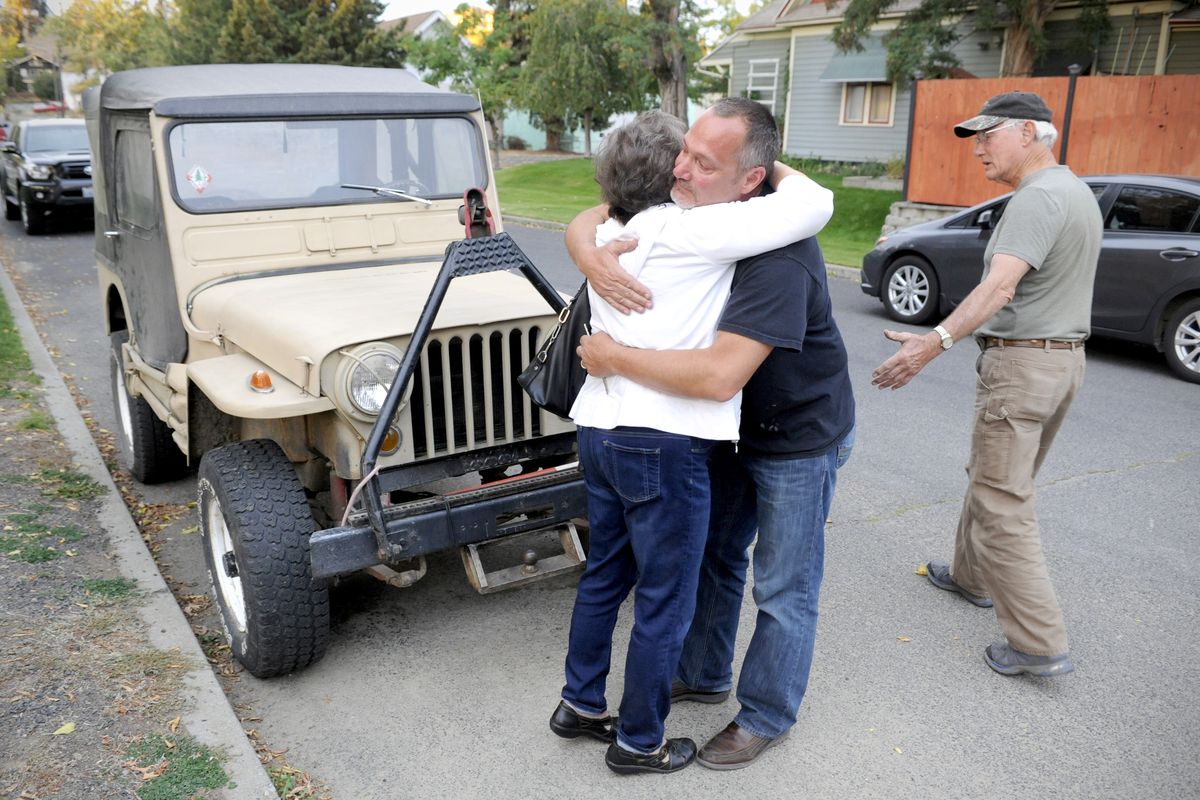 Steve Heidal hugs his mother, Patty, while his father, Gary, looks over their 1951 Jeep that was found Wednesday in north Spokane. The Jeep had been stolen, and the family was distraught because the vehicle had been in their family for 39 years. (Jesse Tinsley)
The rescue of Runt the Stolen Jeep took place on a north Spokane side street as the Wednesday sun began to set.
It was like watching a family reunion.
"I cried when I saw it," said Patty Heidal. She rushed to Madison and Dalton thanks to a caller who responded to the stolen Jeep ad (with photo) that the Heidals put on Craigslist.
"I was shaking so hard."
Sure enough, the caller had it right. The purloined Jeep – a 1951 Willys M38 – was exactly where he said he saw it.
Joining Patty was Jolyn, her daughter-in-law, and a burly friend who tagged along for backup. When you're dealing with a stolen vehicle you never know when you might need some muscle, Patty explained with humor.
To an outsider, the small tan military vehicle may not look like much. The tires are worn. The vinyl top is covered with dust.
It's a workhorse, not a show pony.
To the Heidals, however, losing the beloved Jeep they nicknamed Runt was like losing a close friend.
After all, the Korean War-era vehicle had been with the Heidals since 1975. That's the year Patty's husband, Gary, bought the Jeep in New Mexico and towed it to Spokane.
"Thought it was a goner," said Gary, when he finally joined the reunion from a fishing trip with his son, Steve.
"I figured it was parked in somebody's hunting camp and would stay there forever."
What a difference a day makes.
Flash back to the wee hours of Tuesday, when thieves (or thief) crept behind the Heidals' tidy home on North Alberta.
The culprits went to work on the Jeep, using a bolt cutter to snap the padlocked chain that Gary had run through the steering wheel and under the driver's seat as a security precaution.
"It was something I did every time," the 76-year-old Vietnam vet said.
Didn't matter.
Chain cut. The creeps punched out the ignition, crossed some wires and took off into darkness.
On Tuesday morning, Gary got the shock of his life when he walked outside and discovered a Runt-sized void on his concrete slab.
"The vermin come out at night," Patty said.
True. But for reasons yet unknown, the theft was short-lived.
Going over the parked Jeep Wednesday, Gary and Steve came to the same conclusion: No damage had been done other than to the ignition.
Maybe it was ditched when they discovered that Runt was made for crawling up mountain roads and not hot-rodding down Riverside.
The Heidals picked the name Runt, Gary said, because "it's small but will go anywhere."
And everywhere. The Heidals used Runt for everything from family outings to sightseeing trips. It hauled them to and from fishing and hunting excursions.
A serious bow hunter since 1985, Gary said driving Runt back from the woods with an elk draped over the hood was a tradition.
"We were out with it the weekend before last to Big Meadow Lake up above Ione," Patty said.
There's a good reason Runt looks like a prop in a war movie.
According to an Internet site, 62,000 M38 Jeeps were cranked out between 1950 and 1952 to meet the Korean War demand.
Attesting to its military roots, the Jeep came with a manual explaining where to put explosives in case of "enemy overrun."
You won't find that in a sissy Prius.
Fiddling with the ignition, Steve got the Jeep going. The small motor practically purred.
"I put so much money, effort and time into making it dependable," Gary said. "Anything that broke, I had to fix it. I've always been my own wrench."
"He's always out tinkering with it," confirmed Patty, Gary's bride of 56 years. "He has tinkeritis."
There's a reason Gary knows what he's doing. Serving in the United States Air Force, he worked on jet engines and repaired downed aircraft.
Here in Spokane, he put his mechanical talents to use by running his own marine repair shop for 22 years.
And now Runt will ride again.
"This is a family treasure," said Steve, who was visibly choked up.
"A vehicle like this isn't sold – it's handed down."
Doug Clark is a columnist for The Spokesman-Review. He can be reached at (509) 459-5432 or by e-mail at
dougc@spokesman.com
.
---
---