 Oct. 16, 1991: When winds fanned the flames of disaster
Mon., Oct. 17, 2016 | By Jess Walter, The Spokesman-Review
From The Spokesman-Review archives, 1991
Nineteen miles above Spokane, a weather balloon rocked and twisted in gusting 7 a.m. winds.
Ken Holmes crossed the office of the National Weather Service and pulled a readout off the computer printer. He shook his head.
Forty-two days without a drop of rain. Three months with little more than a sprinkle. Now, the weather balloon showed that 50 mph winds were swirling above Spokane and preparing to drop.
Later that morning, smoke from a nearby fire filled the Weather Service office at the Spokane International Airport and Holmes realized this was no ordinary wind storm.
He answered the telephone, coughing from the smoke. "This could be trouble," he said.
It was.
By the end of the day, when the winds began to die, dozens of wildfires had destroyed 112 homes and killed two people in Eastern Washington and North Idaho. More than 80 blazes scorched 50,000 acres and some still burned out of control.
---
---
The fires overwhelmed rural fire-protection systems already stretched thin by the growing number of people moving to the countryside.
The dust was so thick, the fires moved so fast, that no one could get a full picture of the crisis. But in the days following, it became clear that, if not for the extraordinary efforts of fire crews, homeowners and volunteers, the disaster would have been even worse.
Just before 9, the Inland Northwest caught fire. A power line was down. There was a brush fire. A grass fire. A timber fire. Smoke. Sparks behind a shed. A house was burning.
Between 8 and 10 a.m., Spokane County 911 received 253 calls, the number usually logged in half a day. In 12 hours, there were more than 2,000.
At dispatch centers across the region, the calls blurred. "The phones were ringing faster than you could answer them," said Joe Greene, working the fire District 9 dispatch center north of Spokane.
Greene's shift lasted 36 hours.
In Cheney, fire District 3's first call came at 8:49. Gusty winds fanned a fire west of the Spokane airport, burning 50 acres and closing the airport for an hour with choking, dusty smoke. By the end of the day, that fire was an afterthought.
At Valley Fire, the first report of a downed power line came at 9:10. Before the day was over, dispatchers heard 34 more, but were too busy to investigate half of them.
In Colville, the state Department of Natural Resources began monitoring the fires in Eastern Washington. At 9:20, the department issued a warning that at least nine fires were burning in the Spokane area. In two hours, the number would reach 40.
At 9:30, Sheri Tilton heard the "big slapping pop" of a tree hitting a power line behind her home in Otis Orchards. She called 911 and was put on hold.
By the time she got through, the fire had raced through her backyard and began to roar up and down the foothills near Newman Lake like a roller coaster.
At the same time, the lights went out at Sandpoint High School. Within 15 minutes, all available firefighters in Bonner County in Idaho were rushing to fight scattered wildfires, most caused by fallen power lines.
The lights were out in downtown Coeur d'Alene, huge chunks of Pend Oreille County in northeastern Washington, neighborhoods in north Spokane, the Valley and the West Plains.
At Washington Water Power Co. in Spokane, 40 telephone operators handled 11,000 calls in a couple of hours.
North of Spokane, District 4 firefighters listened to the wild scanner traffic and wondered when the winds would topple power lines in their district.
At 9:37, they got their first call: a fallen line and grass fire on Burroughs Road, near Deer Park.
"What normally would have been small potatoes, a simple grass fire, was hard to handle," said volunteer firefighter Mark Lewis. "The winds were whipping so hard that it was out of control for a while."
The fire burned a barn, a shed and two haystacks. Firefighters were on to the next fire before that one was completely out.
A few miles away, on Wildrose Prairie, Judy Larson was getting ready to take a shower when she heard a loud pop and the power went off. She looked out her bedroom window and saw an entire field on fire.
"The wind was blowing so hard it took it right up into the trees," said Larson, whose home was spared. "It took our neighbor's house in nothing flat."
District 3 crews were still fighting the airport fire when they got word of a fire near Marshall. By the time firefighters drove through rolling smoke and dust to get there, three houses were gone.
About 11:15 a.m., District 8 heard that a power line had fallen along Jamieson Road on Browne Mountain. To the east, two fires burned across the state line toward Hauser Lake. Fires leaped up near Wellpinit, Ford and Newport. Others were reported near Colbert, Midway and the Little Spokane.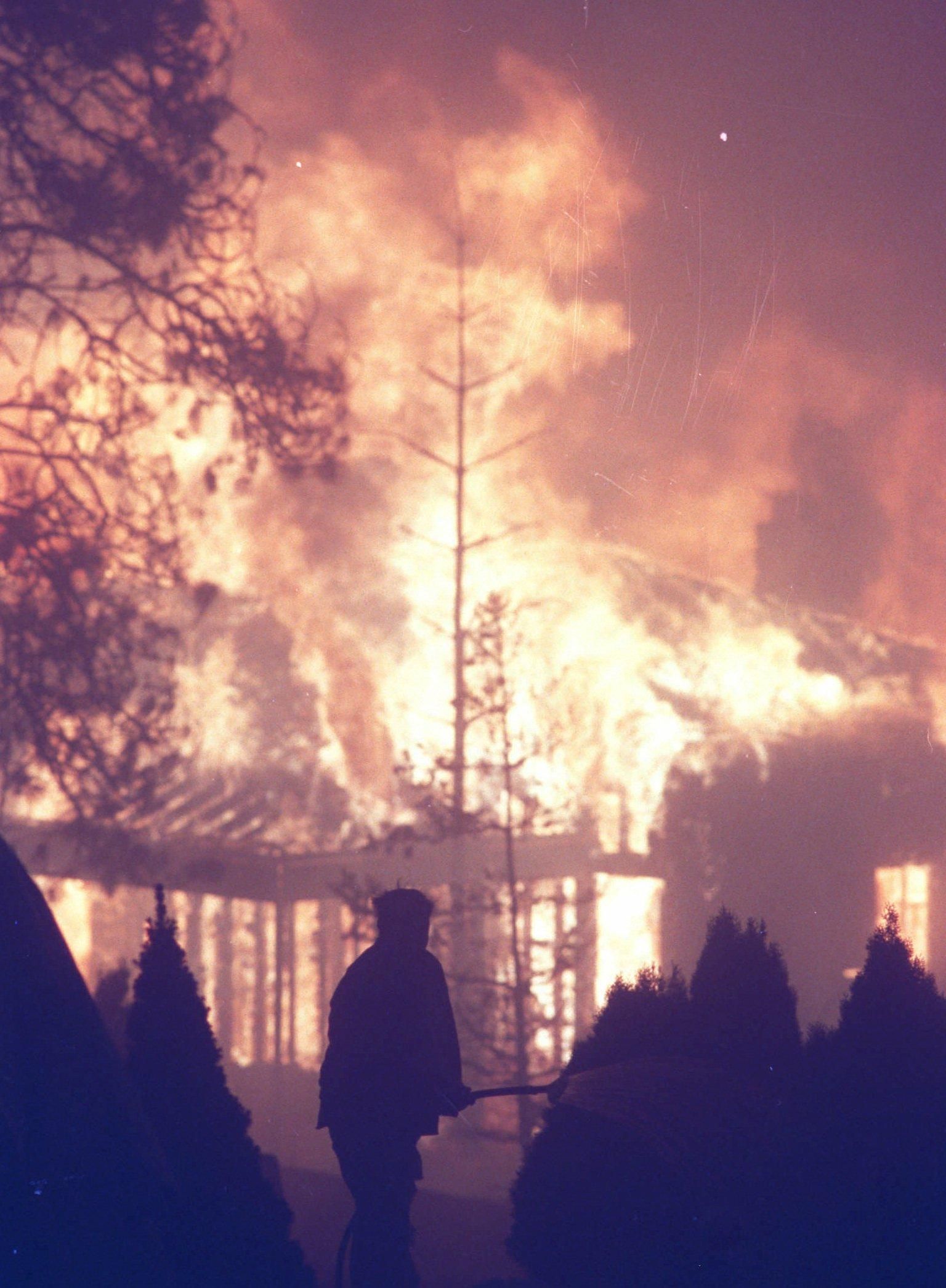 "I thought it was the beginning of the end," said District 4 Chief Joe Krizanic.
Eighteen miles west, on a hilltop near Reardan, winds knocked down another power line. It fell into a stand of pines and dry grass and apparently started a fire that would burn out of control for four days, gobbling up a handful of other fires, scorching almost 14,000 acres and eventually killing a woman.
"This is where it all started," said District 5 volunteer fire Chief Doug Bonstrom. He looked out over a blackened strip that widened for miles as it spread over a canyon and topped another set of hills. I still can't believe all this."
Chattaroy, Wildrose Prairie
Joe Traband was sleeping in his mobile home on Wildrose Prairie when an explosion shattered his bedroom window. His bedspread burst into flames.
"It just knocked me out of bed," said Traband, who works nights. "I saw the fire in the curtains and the glow outside, and I knew what it was."
By the time he reached the front door, the living room, kitchen and dining room were ablaze. He ran outside in his underwear and was 20 feet away when the trailer popped, then erupted in flames.
Barefoot, the 55-year-old ran 300 feet down a gravel road to his landlord's house, while the 11 a.m. fire roared over his home on Monroe Road and swallowed three others on Wildrose Prairie.
The fire ran across Dragoon Creek then jumped U.S. Highway 395 and burned toward a fire already out of control about 2 ½ miles to the east, near Chattaroy.
About the same time, Krizanic of District 4 pulled up to look for his crews who were fighting the fire near Denison-Chattaroy and Yale Roads.
He couldn't find them in the thick smoke.
That fire pushed crews back a quarter-mile as it ate up brush and timber. Bearing down on a trailer park on one side, flames jumped 200 yards over U.S. Highway 2 and continued toward more homes.
"We couldn't keep up with the fire," Krizanic said. "We knew that we had no control of it in the wind. Instead, we focused on evacuating as far ahead of the front as we could."
While some firefighters chased the head of the fire across Highway 2, the rest stayed on the west side to soak the Chattaroy Hills Mobile Home Park.
But by noon, windborne embers lit piles of pine needles and set off scores of blazes. Within an hour, all 15 homes in the trailer park were gone.
Volunteer firefighter Ron Morrison lost his own home there. "I had to stand here and watch it go. With that wind, there wasn't a thing anybody could do."
"It was like it was leaping at you," said Billie Myhre, who owns the Chattaroy Hills Restaurant next to her burned home in the trailer park. After being chased from the mobile home park, firefighters turned their attention to Myhre's restaurant.
"They said they had to save the restaurant because that's where they eat – and they saved it," she said.
The fire raced north and east, running over more than a dozen houses and mobile homes. More than 150 District 4 firefighters rushed from house to house, making a split-second decision about which to save and which to write off.
Dan Kangas came home to his sheep ranch on East Dunn Road about 2:30 p.m. to find a barn in flames. He drove his pickup truck through a 100-foot-wide wall of smoke and flame, climbed on a tractor and dug a fire line around the house.
Another barn and two grain silos filled with seed were gone, and 47 of his 60 sheep died. To the west, two mobile homes and two houses were on fire.
To the east, the Wildrose fire was creeping up on crews fighting the Chattaroy fire. Together they would burn 5,800 acres. The Wildrose fire burned through timber and dry fields at speeds between 3 and 5 mph.
Richard Harrison, a retired postal worker, was cleaning the barn on his 15-acre homestead near Woolard and Monroe roads when he heard his neighbor Don Small call for help.
As Harrison, 67, jogged toward Small's mobile home on Monroe Road, he came across a winded firefighter at the end of a hose.
"He was practically overcome by smoke. He handed me that hose and there I was, with my back against the trailer and flames three feet away," Harrison said. "I didn't have much of a choice then."
After his home was saved, Small, a retired miner, said he never doubted that God would help him.
"Your eyes burn so bad and your lungs ache so you can't breathe. We would wet it down and we'd think we have it out, then a gust of wind would hit and suddenly the flames were 20 to 30 feet high," he said. "But I never panicked. I just kept thinking, 'No, the Lord's going to save it.' "
Ponderosa, Newman Lake
Just before noon, Dr. Bob Fulton smelled smoke behind his Ponderosa home and called a fire dispatcher, who told him his house was in no danger.
"I hung up the phone and I swear within two minutes we saw fire cresting on the hill behind our house," he said.
Thirty minutes later, the house was on fire.
The Ponderosa fire snuck up on everyone.
Most available firefighters were near Newman Lake, battling a fire that burned 1,000 acres and was threatening a mobile home park and several farmhouses.
So when a power line fell about 11:15 a.m. on the west side of Browne Mountain, District 8 Chief Don Hunt grabbed a few remaining firefighters and started up a dirt road on the 3,144-foot mountain.
"We had to stop to cut trees from across the road and we had to stop a couple of times because the road just disappeared" behind blowing dust, he said.
Once they found the fire, they had no idea how big it was. "You couldn't see the fire unless you were standing next to a burning bush or tree. You couldn't tell the dust from the smoke."
As Hunt rushed to protect homes and television towers on the west side of the fire, he received conflicting reports at about noon from the east side.
The first was reassuring: "Nothing in Ponderosa at this time." The second was more ominous and more correct: "Looks like it's going over the mountain."
On the other side of the mountain were several hundred homes, carved into the wooded hills of the Ponderosa subdivision.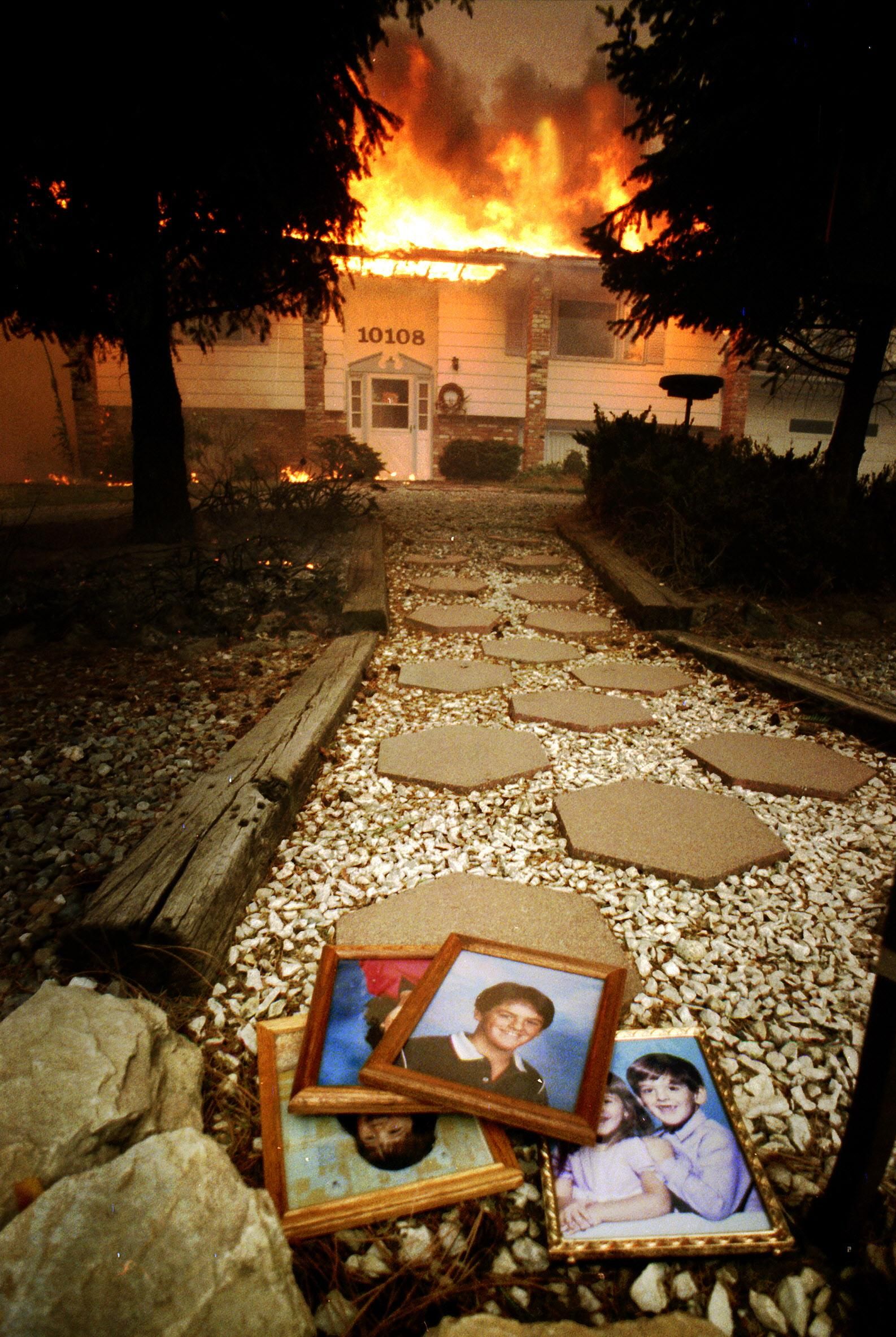 "We knew at that point that we had a real mess on our hands," Hunt said.
About the time Fulton smelled smoke, Ball Walkup, District 8's assistant chief, left the Newman Lake fire to set up a Ponderosa command center at Redeemer Lutheran Church, at Schafer and Dishman-Mica roads.
In the next three hours, 15 homes were destroyed as flames darted like tongues into one yard, skipped a house, then shot to the next.
By 12:25, District 8 ordered Ponderosa evacuated. Sheriff's deputies spread the news by loudspeaker, and the emergency broadcast system was activated.
But many homeowners ignored the warnings. They soaked their roofs along the south ridge of Ponderosa, framed against walls of flame while deputies tried to get them to leave.
"I dashed home from work about one o'clock, just about the time they were setting up the road block," said Lynn Hostetter, who lives on Holman Road. "The (deputy) said 'Whoa, you can't get in there,' and I said, 'Ain't nothing going to stop me.' "
Like many who stayed behind, Hostetter hid from deputies who threatened him with arrest, and fought fires with a garden hose. He and two women he didn't know sprayed water on three houses. "By gosh, we saved 'em," he said.
Just before 1 p.m., Bruce Butler saw a power line go down behind his house on Ferret Drive.
At the same time, flames were marching up toward two blocks of homes. Seven houses along Ferret and two more on nearby 50th Avenue burned. A swimming pool and a large, wet yard saved Butler's house, while houses on three sides of it were destroyed.
Firefighters fought from house to house, often abandoning those that caught fire to move on to others they could save.
As the fire passed through the south end of Ponderosa, firefighters wondered whether they could stop it from crossing Dishman-Mica Road and burning into the Painted Hills neighborhood.
Hearing about the fire in Ponderosa, Randy McNeice left work about 2 p.m. to check on his Painted Hills house.
"When I got home, there were a few little white and red sparks coming down, so I told my wife we'd better get a few family pictures into the car and get ready to go."
By afternoon, crews had beaten down the Newman Lake fire and Valley Fire Chief Rod Tedrow was sending engines to Ponderosa. Help came from the city, from private companies and from as far away as Tekoa in the Palouse.
Finally, at 4:30, Tedrow rushed to Ponderosa.
"I was no sooner on command than we lost some more houses," he said.
Then he got a report that the fire had crossed Dishman-Mica. Flames shot across the road as if launched from a slingshot. The fire hit a shed less than 20 feet from Bob and Pam Ayers' back door.
Weary firefighters were pulled from Ponderosa to begin digging new lines in Painted Hills.
Firefighters and volunteers saved the Ayers' house, watering down the shake roof that they knew could set all of Painted Hills ablaze. By dark, it was clear firefighters would have more success in Painted Hills than they had on the other side of Dishman-Mica.
The Ponderosa homes "just went up, 'whoosh,' like that," said Gladys Greene, whose husband stood on the roof of their Ferret Drive house and kept flames away with a garden hose. "The firefighters did everything they possibly could. They were just spread so thin."
Nine Mile, Four Mounds
Fighting the Nine Mile fire was like having blind men feel an elephant to determine what it looks like.
Except the elephant was running.
"We thought we'd lost 70,000 acres at one point," said District 9 deputy Chief Skip Wells. "There was no front or back to this fire. It was all over the place."
Communication problems made it worse. While fires roared through fire District 5 in the Four Mounds area, firefighters and homeowners in neighboring District 9 had no idea what was coming their way until mid-afternoon.
Although they usually share a radio channel, the two districts were using different frequencies because there was so much radio traffic.
Hours earlier, the main body of the fire shot east from the hills north of Reardan, swooping into a canyon at 10:30 a.m. and destroying five homes along state Highway 231 before firefighters could even warn residents.
From there, the blaze spread like liquid over hills and canyons as it moved east toward homes on the Four Mounds prairie and Nine Mile Falls.
By 11 a.m., downed power lines had sparked at least two other fires in Four Mounds. As District 5 firefighters from Reardan raced eight miles northeast to those neighborhoods, they were chased by the main fire.
Mike Erickson's fire crew was cut off by a blaze that burned toward them near Wood Road. As he and two other volunteers pulled into a field to get a look at the fire, their truck died.
The fire roared toward them across scrub grass and wheat stubble. The truck's engine refused to start.
"We called (fire Chief Doug Bonstrom) and he's yelling, "Waste the truck, get out of there,' " said Erickson, a first-year firefighter. They sprayed the truck with water and ran to a nearby road as 10-foot flames chewed up the field but missed the truck.
Below the Four Mounds prairie, volunteer crews from District 9 waited in Nine Mile Falls for their own power lines to go down.
At 1 p.m., Ellen Axford was sitting inside her triple-wide mobile home on Christenson Road in Four Mounds, sewing a quilt with her 89-year-old mother-in-law.
She saw smoke and called the District 9 dispatcher, who told her there was nothing to worry about. A half-hour later, Axford was driving along burning fields, her mother-in-law trying to follow in a pickup truck.
"There was fire all around the road and when I looked behind me, she wasn't there," said Axford. A deputy went back and helped her escape.
Flames raced up and down Christensen Road and along Four Mound, Charles and Ritchey roads, destroying the Axford home and 20 others as is overwhelmed volunteers trying to stop it.
Crews didn't even have time to put out fires around the Four Mounds fire station, where they stopped to gas up their trucks and run out to another home.
They were still being pushed back by the Christensen and Ritchey fires when the Reardan fire roared through, sweeping across the prairie like a dust storm.
That fire shot northeast along Valley Road and perched on the hill overlooking Nine Mile Falls about 2:30 p.m. Volunteers at the fire station below thought it was one isolated fire. As they moved toward the houses along Long Lake to attack the blaze, it raced down the hill and overwhelmed them.
"We had fire right on top of us and trees were falling everywhere," said deputy Chief Wells. "We had no idea this was coming."
With the main fire pushing crews back toward Long Lake, the Christensen and Ritchey fires moved in to the north and south, threatening to pinch the firefighters. Wells ordered his crews out, evacuating homeowners on the way.
But for two hours, one crew didn't answer radio calls. When the fires burned together in Nine Mile Falls, the crew was caught in the middle.
"The fire blew right over them and we had no idea where they were," Wells said. "It was so frustrating. They had a dead radio and we thought we'd lost them."
On South Bank Road, falling trees and racing flames kept firefighters from getting to all the homes.
At one of them, 29-year-old Kathryn Conyers, six months pregnant, was trying to get away. Her two driveways were blocked by fallen trees. The fire was burning several houses around her and she apparently tried to run toward Long Lake.
That night, her husband found her dead in a stand of burned pines near the ashes of their house, 60 yards away from her car. A few feet away, the melted contents of her purse were spilled on the ground.
North Idaho
About 1:30 p.m., a logger walked into the Idaho Department of Lands office in Sandpoint and asked for a logging permit.
When he left a few minutes later, he was a firefighter.
Idaho officials quickly realized that they did not have enough help to fight a wildfire at Kilroy Bay on Lake Pend Oreille. So they put out a blanket call for help and hired 150 people on the spot.
The job requirements were simple: "They'd have to have their own boots and look healthy," said Mike Reeb, Pend Oreille area supervisor for the state agency.
The men got 10 minutes of training and were sent to fight fires.
The Idaho fires were a battle against impossible terrain and poor visibility. After hearing about the Kilroy Bay blaze at 10:10 a.m., crews took two hours and 10 minutes to reach it on the east side of the lake.
To the southwest at Hauser Lake, firefighters tried to evacuate pockets of homes in smoke so thick they couldn't see across the street. Fires that blew in from Washington at 9:30 a.m. and 10:30 a.m. threatened dozens of homes through the afternoon.
"It was moving in a couple different directions, the winds were so erratic," said Kootenai County Fire Capt. Ron Sampert. "The wind was blowing west, and then the wind was blowing east, then it was blowing from the north and then it was blowing from the south."
People grabbed photo albums, papers and clothes as the wind snapped tree limbs around their cars. "We're going to lose everything," said one woman, loading up her car as smoke billowed from a nearby hill.
Between 11 a.m. and 12:30 p.m., three more fires were reported in Bonner County – in Wrenco, Granite and Hoop Loop. A fire that started near Garwood burned away from those near Hauser Lake. Smaller fires kicked up in just about every North Idaho county, and fire crews were stretched even thinner.
Crews in Stevens, Pend Oreille and Lincoln counties in Washington faced a similar problem. Calls for aid went unanswered. With firefighting resources tied up around Spokane, there wasn't much left to go around.
At Hauser Lake, two houses and a mobile home were destroyed, but fires were stopped at dozens of other doorsteps.
By 1 p.m., flames were rolling though trees toward a ranch house on Outlaw Hill. Armed with shovels, Larry and Ann Isenberg kicked pine needles out of the way and dug a fire line that saved her sister's house.
"We're going to stop it," said Larry. "We've got a chance, we've got a chance."
At Kilroy Bay, the fire swelled to more than 2,000 acres.
When the sun went down, 10,000 homes had no power in North Idaho.
Near Garwood, two bulldozers and a front-end loader rolled along a dirt road high above an embankment, on their way to dig a fire line.
About 8:40 p.m., the front-end loader sank in the road's soft shoulder and toppled down a 40-foot slope. The driver, 26-year-old Joseph Upchurch, was pinned beneath the huge machine.
By the time volunteer firefighter Michael Reardon reached the bottom of the embankment, Upchurch was dead.
Relief On The Way
The relief effort began even before most of the fires.
By 9 a.m., the Red Cross was planning to train 100 new volunteers. Four hours later, shelters were set up at Mountain View Middle School and University High School in the Spokane Valley.
By 5 p.m., shelters opened at Riverside, Mead, Newport and Lakeside high schools and at Zion Lutheran Church in Deer Park and Covenant Christian Church on the Palouse Highway.
"We're just trying to do the most we can with what we have as fast as possible," said Paul Soper of the Red Cross. "The situation is spread out. We've got fires all over the place."
In the afternoon and evening, students from Ponderosa, East Farms and Chattaroy elementary schools cried as they waited at shelters for their parents to pick them up.
"We have a lot of kids whose houses have burned," said Linda Wirtz, an employee at Chattaroy Elementary School. "Some of the kids haven't heard from their parents yet."
Churches, schools and homes became unofficial shelters for thousands of people evacuated from neighborhoods in the two states.
Parking lots at Moab Junction near Newman Lake and at Schafer and 32nd near the Ponderosa subdivision were gathering points for worried residents and tired volunteers. In Idaho, Hauser Lake residents were sent to a shelter at Post Falls City Hall.
In the late afternoon, Clifford Moore sat fidgeting in the Post Falls Police Station, waiting to hear that his wife had escaped the fires that burned toward their Hauser Lake home.
"She's the most valuable thing I've got," he said. "I hope they get to her before the fire does."
By 8 p.m., the wind was dying down and fresh firefighters were coming onto the fire lines. No more homes would be destroyed.
The Ponderosa fire was still out of control, but was burning in the unpopulated hills below Browne Mountain. Up north, District 4 firefighters turned their fire from the town of Chattaroy.
Fires were under control at Newman Lake, Midway, Green Bluff, Marshall, Mount Spokane, Bonner County and dozens of other areas threatened earlier.
But other fires were kicking up. Some residents in Hangman Valley – where 22 homes were destroyed by fire four years ago – were evacuated in the evening after a fire started near there. Three fires in Stevens County were threatening dozens of homes.
And two of the biggest fires, at Nine Mile and Kilroy Bay, were still going strong.
At 9:30 a.m., District 9 deputy Chief Wells went up in a helicopter to get a better view of the Nine Mile blaze. It was his first clue that the fire would destroy 14,000 acres.
"There was this big wall of flame a few miles to the south and I turned to the pilot and said 'Whose fire is that?' " Wells said. "He turned to me and said, 'That's your fire, sir.' I just sank in my seat."
At 11:45 p.m., the last group of children awake in the Riverside High School gym curled up on a stack of blankets to watch the fourth showing of "Little Mermaid."
Prepared for 10,000 evacuees, the Red Cross sheltered 1,100 people and fed 1,500 that first night. Many others stayed with friends or rented hotel rooms.
In some evacuated neighborhoods, residents snuck back to try to protect their homes from blowing embers and smoldering pine needles.
At his house in Four Mounds, Rick Jenkin sat in the living room all night, no radio, no phone, no power. Fire had been so close that it melted the caulking in his windows. Jenkin held a candle in his hand and every few minutes went to check his attic for fire.
On three sides of his home, the blackened ground smoked. Once in a while, a siren passed. "It was so quiet, kind of eerie," said Jenkin, a Spokane city firefighter. "I couldn't wait for morning."
The morning after
Smoke hung over the ashes that used to be Ellen and Stan Axford's home.
Early Thursday morning, the only thing not smoldering on their Four Mounds property was a pile of brush and weeds they'd been waiting to burn.
"Walking up there and realizing you have nothing left – there's no way to describe it," said Ellen Axford. "Everything we had is gone except that stupid burn pile."
Homeowners fighting the fires finally got to bed when the sun rose, giving up their vigils, coming down from their roofs and putting aside their garden hoses.
Morning broke with mild winds, cooler temperatures and a huge mobilization of emergency crews.
Throughout the night, firefighters from the Washington Department of Natural Resources had moved in to help contain blazes being encircled by miles of fire lines. Some firefighters went home after 20-hour shifts.
At 7:15 a.m., a rooster crowed from a locked pickup truck at Riverside High School. Inside, the cafeteria staff fed omelets to hundreds of evacuated homeowners and firefighters, while bleary-eyed children awoke in front of the television in the gym.
In Deer Park, Lloyd Handlos stepped around a cot in the Department of Natural Resources command center to say, "At this point in time, the situation is looking good."
Clear skies had allowed helicopters and airplanes to drop fire retardant on many of the fires, and bulldozers were carving fire breaks.
But for more than 100 families throughout the region, Thursday morning was spent in anguish. They raked through ashes, kicked over appliances and searched for pottery, gems, silverware – anything that didn't burn.
In the Ponderosa neighborhood, 15 families came home to nothing but blackened chimneys and bumper-to-bumper sightseers.
With fires still burning near Nine Mile Falls and Four Mounds, some of the owners of 26 destroyed homes pleaded with sheriff's deputies to let them pass – just so they could know for sure.
Dozens more were amazed to find their homes standing, surrounded by blackened ground and weary firefighters.
"If there is anyone in Spokane who doesn't believe there's a God, bring them out here," said Robert Platt, whose house still stood. "I'll show them where God was last night."
At Hauser Lake, residents lined the highway until afternoon, when officers finally let them through to their houses. Two families only found ashes.
"I'm tired, hungry and I want to go home," said Bill Massy. "It's the not knowing that bothers me the most." Moment later he found out – his home at Hauser Lake had been spared.
In Marshall, artist Richard Warrington poked through the ashes of his home – one of four destroyed. "This is everything I had, my home, my work. It's like ripping your heart out."
Forty-six homes were gone in the Chattaroy area. At the Chattaroy Hills Mobile Home Park, people searching through the rubble heard the chopping of helicopter blades, as Gov. Booth Gardner dropped in to assess the damage.
Some took out their frustrations on him.
"I called 911 and they said there was no available person to get to this fire," a woman who lost her home shouted to Gardner. "Why didn't you declare an emergency sooner?"
She walked away crying and volunteer firefighter Ron Morrison stepped in to assure the governor that nothing more could have been done.
At Nine Mile and Kilroy Bay, there was still plenty to do. With the weather cooperating, firefighters hurried to beat down the blazes before the wind picked up again.
Crews rushed to dig 20 miles of fire lines at Nine Mile. Tent cities for firefighters were pitched near Kettle Falls, Deer Park, Springdale and Wilbur, where a wildfire had burned more than 5,000 acres.
By Friday, almost 3,000 firefighters were working on the blazes. Over the weekend, the National Guard would join the fight and another 1,000 firefighters would come from Western Washington, Oregon, Nevada and New Mexico.
The fire commanders met Friday night to devise a strategy for mopping up over the weekend. Mark Labhart, incident commander for the Nine Mile blaze, stood and issued a warning.
Another wind storm was coming. Gusts would reach 50 mph by Monday and the chance of rain was low.
"We've got to get this fire nailed, under control by Sunday night," he said. "It scares me to death."
Issues linger
The second storm blew in Monday afternoon with 52 mph winds whipping dust and ash into the sky, causing some homeowners to fear that fires were erupting again.
But everyone was ready. Spokane, Kootenai and Bonner county commissioners had declared a state of emergency. Law enforcement, utility crews and emergency agencies were fully staffed.
And 4,000 firefighters were prowling fire lines, waiting to jump on anything that burned. Nothing much did.
When winds fanned a fire in Ponderosa, a dozen firefighters rolled in, smothering the blaze with dirt and water before it could cover five square feet.
The huge mobilization showed what could be done when authorities prepared for a disaster. But it also highlighted questions about how the Oct. 16 fires could have gotten so far out of control:
– Do state and local laws adequately deal with the rush of families leaving the city for a patch of country privacy?
As developments sprout on tree-lined cul-de-sacs with narrow roads and limited water, the risk for another disaster grows. Natural conditions, the combination of high winds and dryness, will always cause fires.
"The factor that is new out there is homes," said Washington Public Lands Commissioner Brian Boyle.
He will push for statewide building standards on homes to ensure wider access roads, adequate water pressure and requirements that roofs be constructed with non-flammable material.
– Are rural fire crews equipped to handle this kind of disaster?
Largely comprised of volunteers and designed for rural areas, the fire districts are not equipped to handle numerous fires in different locations. The system depends upon each community helping the other – and the state helping them all.
With state and local budget cuts, the system won't improve next year. Fire chiefs say it is possible to provide better protection. Will taxpayers pay for it?
– Are there ways to improve emergency communications and coordination, and establish who's in charge?
Fire officials say too many agencies were trying to talk with too many people during the fires. While each locale worried about its own tragedy, no central dispatch coordinated efforts or set priorities across state and county lines.
The lead Washington fire agency, the Department of Natural Resources, didn't know about heavy equipment owned by Spokane County that could have helped dig fire lines. Many private companies and individuals wanted to help, but went to fires that were already contained.
These issues lingered as the fires cooled.
By Tuesday evening nearly all of the fires were out. Crews even began to leave the Nine Mile fire, which was burning in on itself behind heavily patrolled fire lines.
Only the Kilroy Bay fire in steep, wooded terrain near Lake Pend Oreille was a problem, continuing to burn for days.
Wednesday morning, Ken Holmes prepared another forecast at the National Weather Service office. One week after searing winds had fanned the worst fires in a century, the Inland Northwest was going to get a little rain.
Lead photo credit: Gordon Maxwell dives over a fence as flames from Firestorm '91 rush towards him near Ponderosa in this award-winning photo by the late Kit King. Maxwell is a cook at a local restaurant. (Kit King / SR)