This column reflects the opinion of the writer. Learn about the differences between a news story and an opinion column.
Rob Curley: For one night, Gonzaga fans turned Safeco Field into McCarthey West … and it was perfect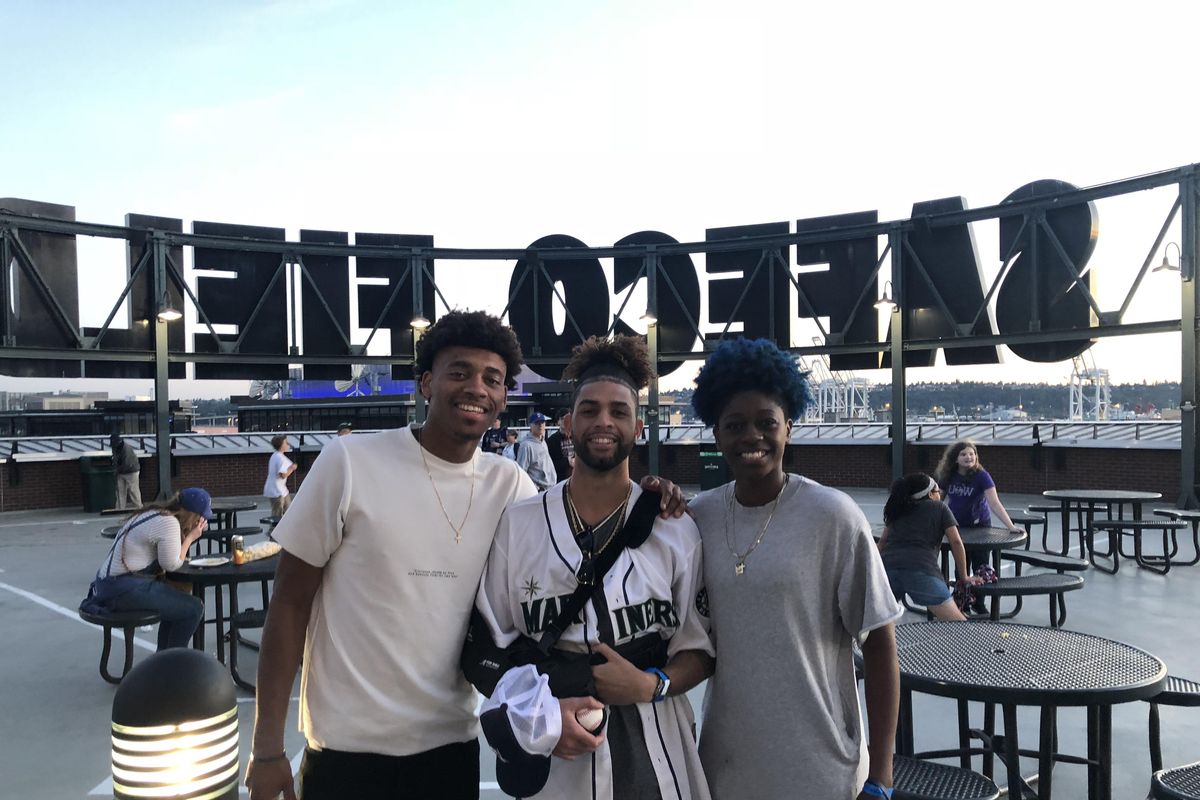 Mariners starting pitcher – and Gonzaga alum – Marco Gonzales walked off the field in the seventh inning Saturday night to a standing ovation.
Fans show that kind of love when you lead the Major Leagues in consecutive innings pitched without giving up an earned run (24 1/3), and you've just gone 6 2/3 innings, struck out six, and gave the hottest team in baseball a lead heading into the final innings – a lead Seattle would keep as it beat Tampa Bay, 3-1.
But no section was cheering louder than 114.
Section 114 was rocking like it was the McCarthey Athletic Center during a February basketball game against Saint Mary's.
The Mariners have been hosting Gonzaga Nights for several years now, but Saturday's was as perfect as one could be. And one of the most attended as nearly 2,000 Bulldog fans showed up to hang out with others who know more about Final Fours than they do the infield-fly rule.
And, of course, Gonzaga fans who went Saturday also got either a cool "Go Zags" Mariners shirt or an M's ballcap with the GU logo on the side. Both were great and should be sold in Spokane immediately.
There was Zag schwag as far as the eye could see.
The only thing that would have made Saturday in Seattle anymore Gonzaga is if the Kennel Club had shown up at Safeco Field to show what a choreographed pregame dance really looks like.
Before the game, not one but two different Gonzaga stars took turns throwing out first pitches.
The Bulldogs' "Mr. Baseball" – Steve Hertz – threw the first one.
Then up was Silas Melson. But not before a highlight video that showed a career that included four straight Sweet 16s and a Final Four.
He walked out to the mound with his No. 0 Mariners jersey open and looked a lot like someone who has played a baseball game or two. That's because he has.
It's a game he always played when he was growing up. But that doesn't mean he wasn't at least a little nervous.
Along with the thousands cheering him, a few were on the field with him. Teammates Josh Perkins and Jeremy Jones, as well as women's team standout Zykera Rice were there.
Perkins said they may have been more nervous than Melson was … just not nervous enough to not mess with him a little before he took the mound. Okay, they have been razzing him a lot.
And it was something they said they'll never forget.
Gonzaga alum Allie Burgett has sung the National Anthem at The Kennel. And Saturday night, she sang it at Safeco. It felt like a whole bunch of Spokane was on this side of the mountains.
An hour or so before the game began, a private party was happening at the top of the stadium for Gonzaga fans.
Seattle attorney Rhys Sterling sat at a table surrounded by his family. All wearing "Go Zags" shirts. Sterling attended Gonzaga in the early 80s. Or as he refers to it, B.F.
"Before Few."
He gets a big smile on his face as soon as he says it.
Sterling talked about how much it meant to him to be around others who love the university like he does. He talked about how his wife and daughter still make it back to Spokane to run in Bloomsday.
That was exactly how Barry Matthews felt. Except he was closer to it all in a different way.
Matthews was an All-America baseball player at Gonzaga. He was wearing one of his old jerseys Saturday night. And it was that same magic of being around so many other like-minded people that made Matthews continue to smile and joke with family and friends.
Especially on the night when Gonzales was pitching.
In the fifth inning, a video of Gonzales was played that showed him wearing one of the evening's Gonzaga giveaways. When he yelled "Go Mariners and Go Zags," the place went nuts.
The chants of "We are G.U." began. Section 114 was rocking again. It was perfect.
It's a reminder that community isn't just the boundaries of a city. Gonzaga has created a community that goes well beyond its campus.
And for one night, Safeco Field became McCarthey West.
---
---