This column reflects the opinion of the writer. Learn about the differences between a news story and an opinion column.
Getting There: Work begins on long-awaited bus rapid transit City Line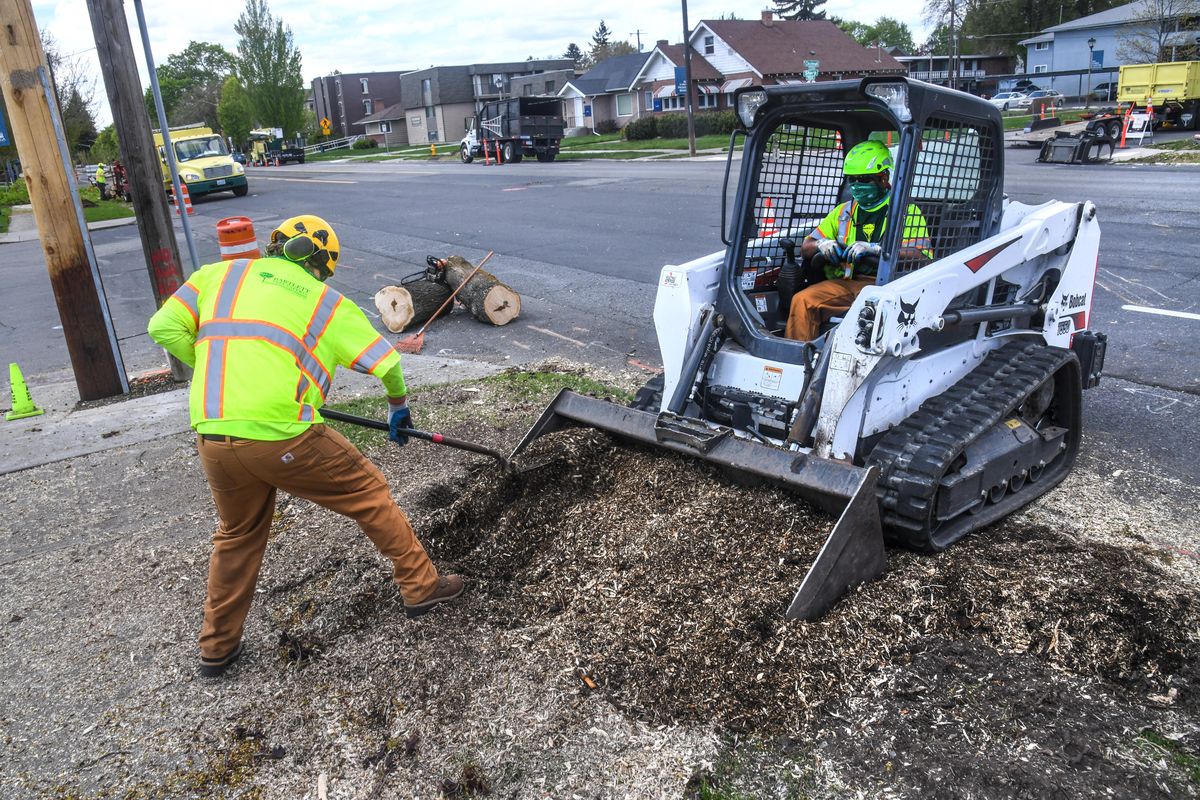 Bus rapid transit in Spokane is no longer just a glimmer in the Spokane Transit Authority's eye nor an idea pushed around on paper.
As of Friday, it was a small crew at the intersection of Cincinnati Street and Sharp Avenue, just north of the Gonzaga campus, with shovels in the dirt, working in the real world to pave the way for the City Line. The 5.8-mile electric bus route that will connect Browne's Addition to Spokane Community College, traveling through downtown and the University District on its way.
Over the next year and half, crews will move to different points on that route, building the City Line's 20 stations in the middle and on the sides of the streets where it will run beginning in May 2022, if the Spokane Transit Authority's schedule holds true.
That construction of the line is underway is the most concrete sign that a project conceived some 20 years ago as an east-west trolley enmeshed in a broader system of light rail will come to fruition, albeit in an altered and downsized form.
But it's not the only sign.
At a special meeting late last month, STA's board of directors officially approved the purchase of 10, 60-foot articulated electric buses at a cost of $1.26 million each.
Once they are delivered sometime next year, they will be painted with a black-and-lilac design that will differentiate the City Line from STA's regular bus routes.
All told, the project will cost STA some $92 million, $53 million of which came from a massive federal grant awarded in January, $19 million of which came from state and local grants and $20 million of which came from the transit agency's coffers.
It took a decade to study, fund and plan the City Line, but the work itself should go relatively quickly.
During a virtual town hall on Wednesday, Karl Otterstrom, STA's director of planning and development, laid out a two-phase construction schedule.
The first phase, which started Friday and will continue until November, will involve what Otterstrom called "core construction." During this phase, contractors will build station platforms and ramps, install railings for the backs of the elevated stations, reinforce with concrete the road in front of those new stations and complete other infrastructure projects, including installing at new roundabout at Cincinnati and Sharp.
The second construction phase will begin in early 2021, when crews will complete some remaining infrastructure projects and put the finishing touches on the stations, adding shelters, fare stations and display boards with real-time information about when buses will arrive.
Once work is complete, likely late in 2021, STA will begin testing the system, before opening it up to paying customers in the spring of 2022.
Or hopefully paying customers, anyway.
Like rapid transit in many other cities, including Portland and Seattle, Otterstrom said, the City Line will use what's known as a "proof-of-payment system" and what's basically the honor system. Passengers will be required to pay before boarding, instead of while boarding, but only random passengers will be asked to show that they have done so.
While some scofflaws may slip through, the proof-of-payment system will have one important benefit: It will speed up the boarding process, since buses won't have to wait while passengers fumble for change to put in an on-board fare box.
And speeding things up will be key to ensuring the City Line is not just a bus line but bus rapid transit.
Many such lines ensure the "rapid" part by dedicating lanes to the line's vehicles so they can't be impeded by traffic. But that won't be the case in Spokane. Instead, Otterstrom said by email, the line will rely on other elements "for improving speed and reliability."
Some of those elements aim to remove barriers to boarding, while others work to move the buses themselves more quickly along the route.
Like the proof-of-payment system, the City Line's raised stations will provide a means of moving things along more quickly by allowing people to board without having to go up.
"The near-level boarding allows for buses to use a smaller ramps for wheelchairs that takes less time to deploy," Otterstrom said by email. "This is additional dwell time reduction."
The line will also have greater spacing "between stations compared to routes that serve the corridor today," Otterstrom said. "This reduces the number of times the bus needs to interface stations."
In addition, some roads will be altered with features to remove impediments to the electric buses. At Pacific and Maple, for example, the road will be reworked to eliminate an existing stop sign for buses heading eastbound.
The City Line will also be equipped with transit signal priority technology, which will allow City Line operators to modify certain traffic lights along Mission Avenue so buses can move more smoothly.
Otterstrom emphasized that the technology will not simply turn lights green for any bus, anytime it approaches a signal, but it will give drivers the option to alter signals for riders' benefit.
"Buses will call on the light to give more green time or shorten red (to start the green earlier) to allow buses to provide reliable transit service," he explained in an email.
The aim is to provide a system that's fast and predictable, with buses arriving every 7 1/2 minutes during peak morning and evening hours and coming at 10-, 15- and 30-minute intervals at less busy times of the day.
But before STA can focus on the job of ensuring the City Line's buses arrive on time, it still has to focus on ensuring the City Line itself arrives on schedule.
Centennial Trail extension
Technically, the Centennial Trail already travels along Summit Boulevard and through West Central, though it can be easy to miss.
Except for a series of small signs marking the way, the trail looks like a series of sidewalks along West Summit Boulevard, West Mission Avenue and North West Point Road.
But if a planned city project goes forward, that will change.
That plan would use a $2.53 million federal grant to replace the sidewalks along the route with the kind of raised, buffered, shared-used path that characterizes much of the rest of the 64-mile-long Centenial Trail.
A group of neighbors has opposed the plan, arguing the city should route the trail elsewhere, while others want to see it become a reality, saying it would bridge a key gap in the path.
Now, the city wants to hear what you think, with a survey available on the city website.
But don't delay. The survey is only open through May 15. And according to the survey website, the start of work may be just around the bend: "The project could move ahead as soon as this year, with construction starting late in the construction season."
Work to watch for
The city of Spokane will begin several projects today.
A $567,000 Cincinnati Street greenway project will get off to a delayed start. Crews will start work today installing sidewalks and driveways on the east side of Cincinnati Street between North Foothills Drive and Euclid Avenue. The road will be open, but construction will make access limited at times.
In addition, a $1.1 million curb ramp project will begin on Nevada Street, between Sharpsburg Avenue to Lincoln Road, before moving to Wellesley Avenue between Pittsburg and Nevada Street.
This project will update curb ramps for Americans with Disabilities Act compliance on streets where work has been completed on grind and overlay projects.
Also starting today, crews will begin installing sidewalks and driveways on the south side of 37th Avenue between Manito Boulevard and Latawah Street. The road will be open, but construction will make access limited at times.
This $430,000 project will construct a six-foot sidewalk on south side of 37th Avenue, to include ADA curb ramps and storm drain modifications.
---
---