This column reflects the opinion of the writer. Learn about the differences between a news story and an opinion column.
Opinion > Column
Getting There: WSDOT installs downtown ramp meters to control the flow of traffic
Mon., Sept. 21, 2020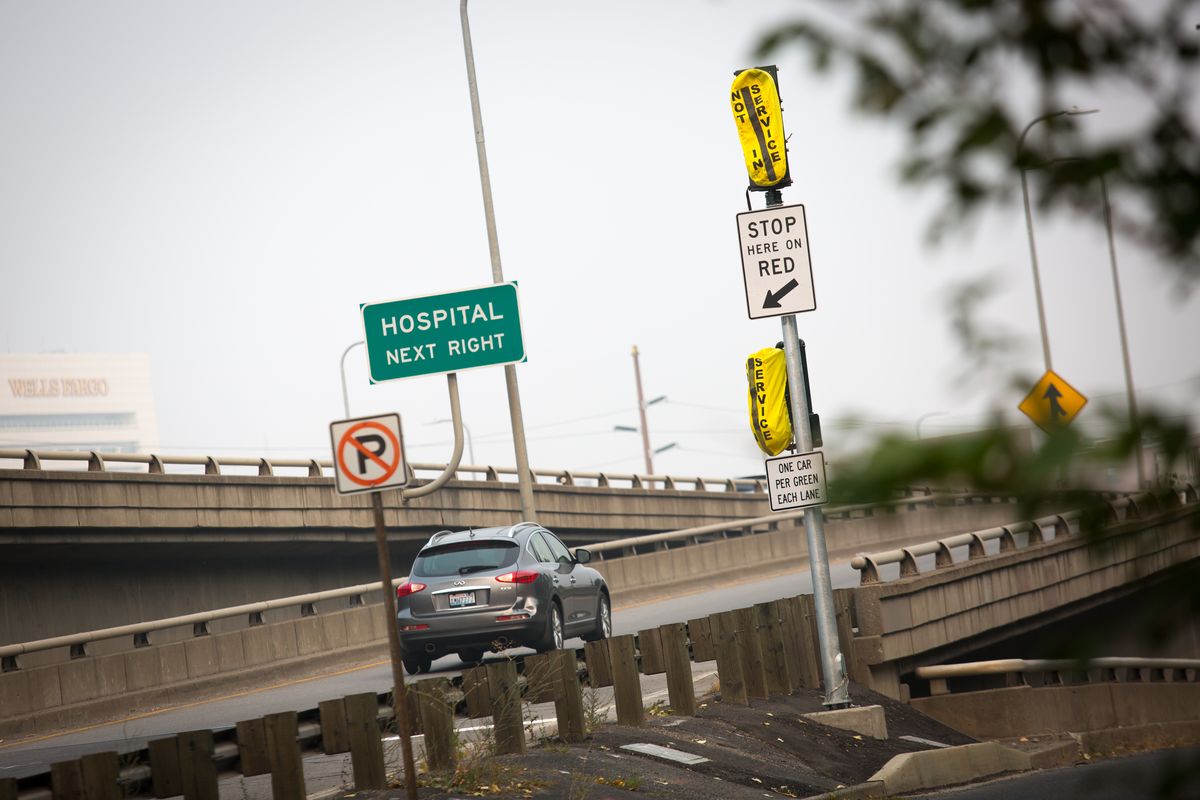 A vehicle passes a ramp meter not yet in use while taking the eastbound on-ramp to I-90 near Fifth and Walnut. This is one of several downtown interstate on-ramps that WSDOT recently equipped with ramp meters. (Libby Kamrowski/ THE SPOKESMAN-REVIEW)
They may look like traffic lights, but according to Glenn Wagemann, the ramp meters being installed on interstate ramps around downtown Spokane are just the most visible mechanism in a high-tech system of reducing collisions and congestion on an increasingly dangerous and crowded stretch of Interstate 90.
Wagemann, traffic engineer for the Washington State Department of Transportation's Eastern Region, said that system will include data collection devices both on and off the interstate, gathering information about the volume and speed of traffic and about occupancy, or "the percentage of vehicles that stay in their lane."
That information will then be fed into a computer system that will use an algorithm to make decisions about when the meters turn red or green, preventing or allowing cars to enter the interstate.
For example, if there's an accident, traffic slows and vehicles begin to merge into fewer lanes, Wagemann said. The system would aggregate that info, "adjust the meter rate accordingly" and allow fewer cars to join the jumbled fray.
Ramp meters will be installed at four eastbound ramps – Walnut, Monroe, Division and Hamilton – and at the westbound Division ramp. WSDOT already operates one meter where U.S. 195 feeds into I-90. While that existing meter operates only during predetermined peak morning and evening hours, it and the new meters will be used in a more flexible, responsive way once they're all up and running.
"When we build this whole system in the eastbound direction," Wagemann said, "it will all work as one."
But the effect of the ramp meters won't only be felt on the interstate, he predicted. Instead, Wagemann said, the meters will influence drivers' behaviors in ways that will also be felt down below on the local network of streets, changing "the traffic pattern that flows through the city or through the county."
"What ramp meters do," Wagemann said, "they balance the whole system."
That balance may come, however, at the cost of some inconvenienced drivers.
Wagemann noted that some people like the existing meter at U.S. 195 – and some people don't.
"Those who typically don't like it will typically find an alternate route, which is fine," he said.
In fact, for WSDOT, it's better than fine. Some 45% of drivers who enter I-90 at U.S. 195 immediately exit at Maple Street, Wagemann said. When drivers choose a different route to avoid the ramp meter, they save WSDOT one more trip on the interstate facility it is obligated to maintain – and pass off that little bit of road wear to the city.
He said a similar dynamic could occur at Walnut Street, which has a traffic light that releases a "platoon of vehicles" up a short ramp that merges into one lane from two before quickly speeding up to 60 mph and merging into the main three lanes of the interstate after only 250 feet. Many people who enter I-90 that way then get off at Division.
Wagemann calls the Walnut-to-Division maneuver "a risky move." It's also one the ramp meters may discourage, making the trip "a little slower" and encouraging drivers to consider taking Third or Fourth avenues instead.
He said WSDOT wants to design interstates so people travel at least 3 to 5 miles before hopping off, as "each off and on creates a conflict point which slows traffic and has a potential for collision."
At a cost of $2.9 million for the new ramp meters and the system underlying them, Wagemann said they offer a more attainable alternative to much costlier prospects for improving safety and traffic flow, such as widening the highway.
The decision to add ramp meters has been years in the making. WSDOT and a wide variety of other stakeholders began studying the issue in 2016, and produced a study two years later that recommended a handful of strategies, including ramp meters, for managing traffic without expanding the interstate's footprint.
Also on the table, Wagemann said, are other adjustments to the interstate, such as the addition of high occupancy vehicle lanes, or "managed lanes," with speed limits and lane configurations that could be managed on the fly. That kind of active traffic management system would be costlier – about $24 million, according to the 2018 study – but still far cheaper than adding more pavement to the elevated interstate through downtown.
While those plans aren't set in stone, Wagemann anticipated that "there's more to come before we add capacity."
As for when the ramp meters will turn on, that's not entirely clear.
For one thing, contractors are still in the process of installing all the equipment and tying it all together. Then, once everything's in place, WSDOT will "collect data in a dark mode for 30 days."
After that, they should be able to go on, unless winter has already set in, as WSDOT doesn't want cars stopped on snowy and icy ramps.
"So there's a good possibility that these won't turn on until the spring," Wagemann said. "But we just have to take one day at a time."
Work to watch for
Several city projects slated for last week will begin Monday due to hazardous, smoke-filled air that blanketed the region through Saturday.
Nevada Street between Francis and Sharspburg avenues in northeast Spokane will have lane closures beginning Monday for grind-and-overlay work.
Haven Street will be closed at Wellesley Avenue in Hillyard beginning Monday for a wastewater project that was delayed due to the smoke.
The south lane of Spokane Falls Boulevard between Post and Monroe streets will be closed Monday through Wednesday as crews complete connections for a massive underground stormwater tank near the downtown Spokane Library branch.
In the county, Geiger Road between Soda Road and Electric Avenue remains closed as crews build a new roadway surface. Local businesses are open.
Ted McDermott can be reached at (509) 459-5405 or tedm@spokesman.com
---
---