Fri., Feb. 13, 2009, 9:04 a.m.
Read all about it…
Here's a link to my full story at spokesman.com, "Idaho slashes budget, considers pay cuts," on this morning's fast-moving developments at the Legislature today. And here's a link to my full story from yesterday on the House Environment Committee's rejection of legislation to repeal last year's much-debated vehicle emission testing law, though during the meeting, several panel members said they thought air pollution really wasn't a problem. And here's a link to my full story in today's paper on the education bills introduced yesterday, "Critics blast school funding bills."

And you can click below to read my full story on yesterday's commemoration of Abraham Lincoln's 200th birthday with the unveiling of Idaho's newly restored and relocated historic Lincoln monument; click here to read about Sen. Joyce Broadsword's new bill on child-safety seats, which could bring Idaho thousands in federal funding to buy car seats for low-income families; click here to read about Vice President Joe Biden's comments on the Obama Administration's position on disability rights during his visit to Boise yesterday; and click here to read about the latest transportation funding bills proposed by lawmakers, from minting gold coins and selling them to trying to turn Idaho into a truck license-plate haven.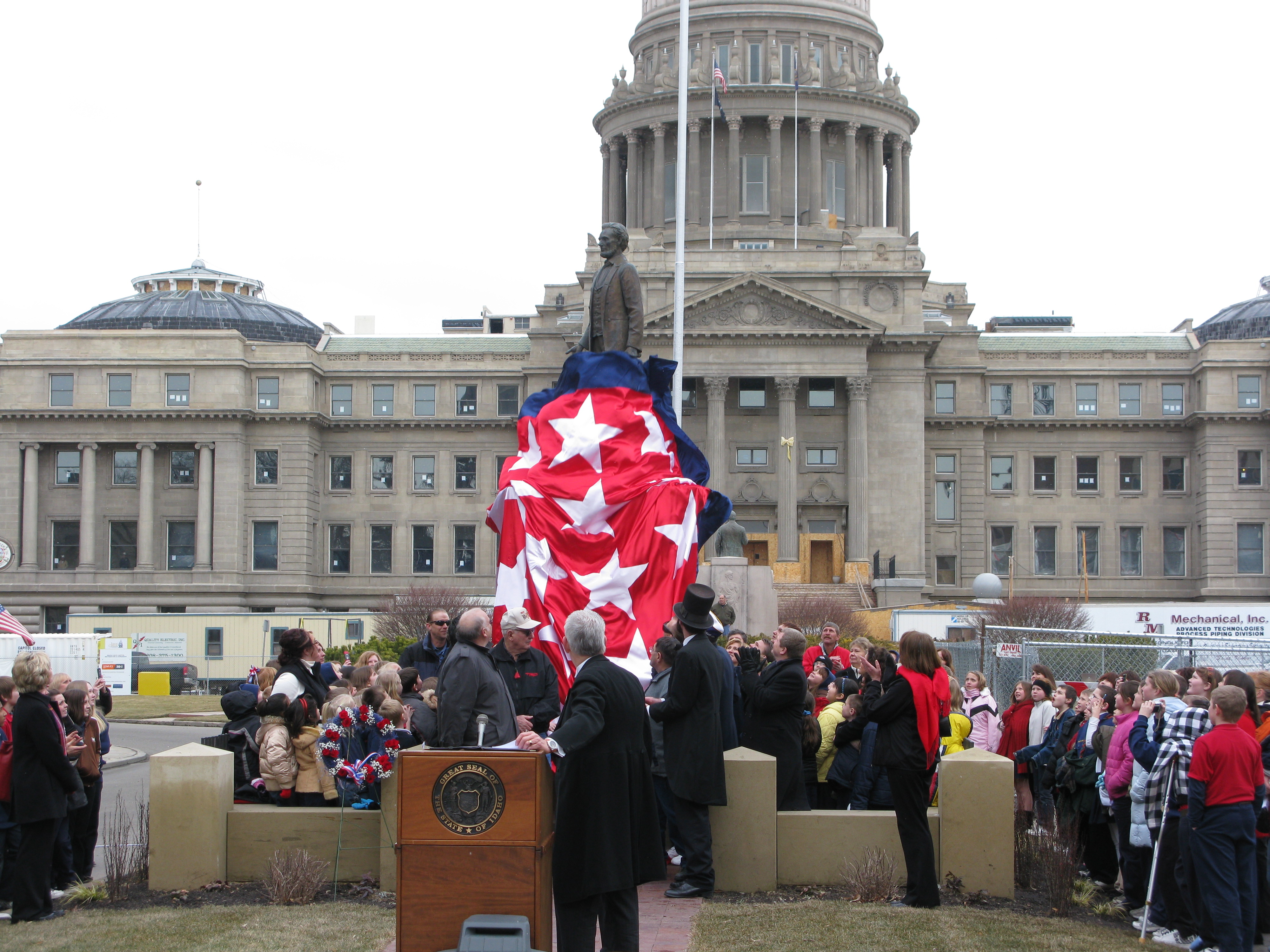 Idaho marks Lincoln bicentennial

    BOISE - Schoolchildren and dignitaries pulled on ribbons attached to a brightly colored, star-covered drape, and Idaho's newly restored and relocated Abraham Lincoln monument was unveiled in its new spot Thursday, just south of the state Capitol.
    The hour-long ceremony included dozens of schoolchildren who helped collect $3,000 in pennies to refurbish and move the historic, life-size bronze statue from its formerly obscure location near the state Veterans Home.
    "They know they played an important role in bringing this monument here," state Superintendent of Schools Tom Luna said of the gathered schoolchildren.
    Idaho has the oldest surviving Abraham Lincoln monument in the western United States, first placed in 1915. Called "The Emancipator," the work shows Lincoln holding the Emancipation Proclamation.
    As part of the commemoration, the Idaho Legislature passed a resolution declaring Lincoln the honorary governor of Idaho Territory for the day. The Senate passed it over a week ago, but the House just got to the measure Thursday with a scant 20 minutes to spare before the noon ceremony.
     Lincoln actually was offered the position of governor of the territory, then Oregon Territory, before he became president, but turned it down because of objections from his wife. As president, he created the Idaho Territory and helped choose its name.
    Idaho Lt. Gov. Brad Little told the crowd, "Lincoln's most lasting legacy to Idaho and the nation was opportunity."
---
---