Mon., July 27, 2009, 5:45 p.m.
Not your average campaign kickoff…
When Ron "Pete" Peterson announced his candidacy for governor today at a Boise bikini bar, there wasn't exactly a crowd on hand, but the few people there were mostly supportive. "I think it's wonderful," said a dancer named Tawni, who slipped off her 8-inch-high stilettos when Peterson marveled at her height, and suddenly became 8 inches shorter. "It's out here where the normal people would come."
Two BSU students who are making a documentary about Peterson's campaign wore his bright blue "Beat Butch.com" campaign T-shirts. Joshua Blessinger, a 30-year-old communications major and former Marine who served in Iraq, said, "He's a citizen who's actually trying to be part of the process. ... One of my goals is to show people politics can be fun and it matters - especially in Idaho, where people think, 'This Republican's going to win and it doesn't matter.'" Added Blessinger, "If everybody got out and voted, something might change."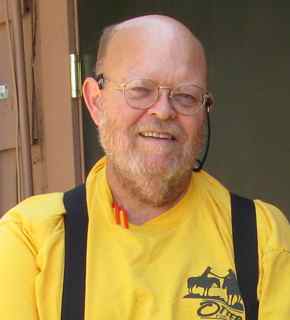 Oddly, instead of his own "Beat Butch" T-shirt, Peterson wore his old yellow "Otter for Idaho" T-shirt from a previous congressional race, when Peterson was an Otter supporter. "I like irony," Peterson explained. "I always liked him," he said. "He just seems really arrogant and disconnected now. He's gone south on me." Peterson said he wants lots of candidates to join the race and lots and lots of citizens to vote. "My little vote counts as much as J.R. Simplot's - probably more since he's dead," he said. "What I want to do is have people aware of the power and beauty of democracy."

Incidentally, Peterson says he wasn't a regular at the Torch 2 club, where he made his announcement, until three weeks ago when he began planning his campaign launch. The club's manager, for his part, noted that the business isn't endorsing anyone and Peterson's just a customer.
---
---