Tue., May 10, 2011, 6 a.m.
How do you pray for a miracle?
A friend of mine has a grown child who has struggled with mental illness for many years now. After the last update, not a good one, I said: "Let's ask any Catholics we know to pray for a miracle to cure your child's mental illness. Pope John Paul needs a second miracle to be named a saint, maybe we should ask him?"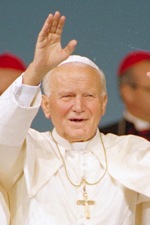 We kind of laughed about it, but it got me wondering what it takes to get a miracle from someone on the road to sainthood.
So I found an article about it by John Allen, a writer for National Catholic Reporter and, in my opinion, one of the best Catholic world writers of all time. I found an article he'd written about the topic.
Allen writes:
According to the traditional criteria, for a healing to be certified as miraculous, it must be:
Immediate
Complete
Permanent
Scientifically inexplicable
Allen also described the situation with the 49-year-old French nun named Marie Simon-Pierre Normand who was cured of her Parkinson's. That miracle got John Paul II to the beatification stage.
On the night of June 2, 2005, she told her superior of her intention to resign, who suggested that she pray anew to John Paul II. Normand said the superior suggested that she write the pope's name on a piece of paper, which by that stage she normally couldn't do because of tremors in her hands. The superior insisted, suggesting that the left-handed Normand use her right hand, and she complied. That night, she said, she was able to sleep well, despite the fact that the pain of the disease usually kept her awake.
The next morning, she said, she awoke feeling much greater movement in her body, and went directly to pray before the Blessed Sacrament. She said she prayed the "luminous mysteries" of the rosary (a new devotion introduced by John Paul II in 2002). Afterwards, she said, she went to the regular morning Mass with the other sisters, where she became convinced she was cured. Four days later she had a regularly scheduled appointment with her neurologist, who, she said, was amazed by the complete disappearance of her symptoms.
Worth a try? If anyone does try this at home, let us know!
(AP archive photo)
---
---