My 2 Cents: How It Is w/Me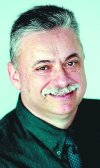 It's been almost 38 hours since I had anything but juices, broths, Jello and, ahem, "cleansing agents" in preparation for my date early this afternoon with Dr. Chris Kutteruf. I admit that the fasting part wasn't as difficult as it was in the past. It's all in the mind. That, and the hours past quickly when you're blogging. Yes, blogging is addictive. But it takes your mind off things, too. Like hunger. I'm not that hungry today. I'm told the hunger passing at hour marker No. 30. I'm not very nervous re: the proctology procedure itself. Been there, done that. Three times. The drugs take any edge there might be out of the exam. I don't look forward to prancing around in a night gown with the slit up the back. White with little blue flowers doesn't become me. (Think Morty Seinfeld in the "Seinfeld" episode where he thought the doctor had taken his wallet.) I'll try to take off any dark socks so I won't look totally like a nerd. I'm looking forward to the drugs and a clean bill of health. I'm trying to decide between Chinese and Mexican for my first meal afterward, leaning toward the former. I'll pull the plug on what I'm doing here around noon. I believe I can count on you this time to understand.
P.S. Yes, Moscow Minidoka, you nailed why I used the photo I did for today's APhoto of the Day. I'll declare you the winner now b/c I doubt that I'll be in shape after the drugs and recuperation to judge today's contest. However, you're all invited to try to top MM's cutline.
---
---