Mon., May 17, 2010, 11:24 a.m.
BSU's WAC Exit Inevitable, Unavoidable?
Bye-Bye Boise? It's barely a question mark; almost went with the period instead. Hawaii's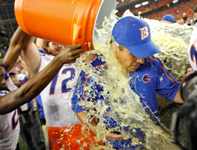 biggest football rival will likely be out of the Warriors' league in 2011, although Western Athletic Conference commissioner Karl Benson reminded me yesterday that, "there has to be an invitation before it can be accepted." Most believe it will be a formality when the WAC defectors invite BSU next month at their presidents meeting. I'm sure many of you view the above quote as an example of Benson passively watching events unfold rather than actively participating in them, that he is just setting himself and the conference up for another big blindside hit ... like the one in 1998 that formed the Mountain West/Dave Reardon, Hawaii Star Bulletin. More here.
Cutline: Boise State coach Chris Petersen gets soaked after Boise State beat TCU 17-10 in the Fiesta Bowl Jan. 4 in Glendale, Ariz. (AP Photo/Matt York)
Question: Should national powerhouse Boise State consider leaving the Western Athletic Conference?
---
---