Mon., Nov. 15, 2010, 1:18 p.m.
116th Calvary Deploying To Mideast
After months of training in Idaho and Mississippi, hundreds of members of the 116th Cavalry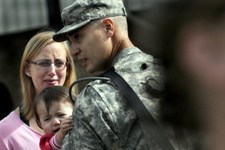 Brigade Combat Team are now on their way to Iraq. At about 10:40MT Sunday morning, the first jumbo jet took off from Gulfport International Airport in Mississippi. It was filled with the first batch of Idaho Citizen Soldiers, prepared to serve their country in Iraq. It's the first wave of a 4-day sendoff for the 116th. "There is an element of them being nervous and apprehensive about what they're going to face when they get over there," said Colonel Tim Marsano of the Idaho National Guard. "But I can tell you that they are extremely well-trained"/Justin Corr, KTVB. More here.
Cutline: A family farewell:Pvt. 1st Class Brian Borkoski says goodbye to his wife, Cassi Borkoski, and his 14-month-old daughter, Magdalena, at the National Guard Armory in Post Falls on Tuesday. (SR file photo from mid-September: Kathy Plonka)
Question: My niece, a lieutenant in the National Guard, is about to deploy for a second time to the Middle East. She served in Afghanistan last year. Now, she's going to Iraq. Do you have a friend or loved one deployed in the Middle East?
---
---