Mon., Dec. 5, 2011, 10:06 a.m.
Scribe: 2011 UI Vandals Total Stunk
It was a fitting end to a season that Vandals far and wide wish they could erase from their collective memories.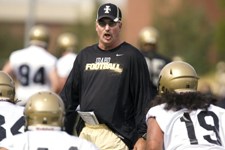 A forgettable, yet unforgettable 56-3 thrashing by Nevada on Saturday capped a painful three-month stretch which featured two wins, four losses by seven points or fewer and one of the most consistently underprepared football teams I've ever had the pleasure (or in this case, displeasure) of watching. In the fourth quarter on Saturday, Idaho was able to sum up its season with a comedy of errors that seemingly only the Vandals could pull off. With backup Taylor Davis in at quarterback and the Vandals facing a fourth-and-8 down by 46 points, the offense couldn't get the play in and had to take a delay of game penalty/Troy Warzocha, Lewiston Tribune. More here. (Daily News/AP photo: Coach Robb Akey gives direction to a special teams unit in August when Vandals were dreaming of a bowl bid)
Question: What was wrong with 2011 Idaho Vandals?
---
---