Sat., Dec. 10, 2011, 12:49 a.m.
AG Won't Bend On Nullification Push
If conservative lawmakers take another run at nullification in the upcoming legislative session, Idaho Attorney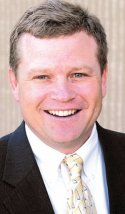 General Lawrence Wasden could once again find himself at the center of the legal storm. That was where he ended up last session, after refusing to play along with efforts to prohibit state and local government agencies from enacting or enforcing any portion of the federal health care reform legislation. ... "I think there's a body of legislators who want to listen to what we have to say, even if they don't agree with it," said Wasden, who was in Lewiston Friday. "Then there's a more vocal group who couldn't care less what we have to say. They want to take away our funding and hire their own attorneys. Is that good public policy? Are they going to get an honest broker, or someone who'll say what they want to hear? My job isn't to tell you what you want to hear. It's to tell you what the law says"/William L. Spencer, Lewiston Tribune. More here.
Question: Will the 2012 Legislature pass the nullification bill pushed by the Far Right, led by Rep. Vito Barbieri, R-Dalton Gardens?
---
---