Thu., Jan. 6, 2011, 2:02 p.m.
Facebooking A Happy Local Ending
Here's how social networking works in Kootenai County. Coeur d'Alene Realtor Tom Torgerson sees an upright piano abandoned along a new Fernan Lake subdivision road. He snaps a photo. Facebooks it. And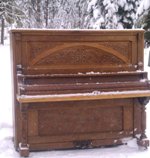 laments that someone has booted such a fine old-time piano into the snow. Tom's Facebook Friend Judi Caceres reads the post and figures the eightysomething piano might cheer up her boyfriend, Ben Miller, who has been laid up in Coeur d'Alene since a drunk hit Judi and him on New Year's Day. Jack-of-all-trades John Thompson retrieves the piano after digging Ben's trailer out of the snow. Tom Facebooks a photo of John loading the piano onto the trailer. I snag both photos for my Hucks Online blog because Tom is now a Facebook Friend. I tweet it. I Facebook it. Others re-tweet my blog post. Then, Ben Miller, who became a Facebook Friend through the process, sends this Facebook message: "I look forward to bringing the piano back to life." And we all lived happily ever after.
Question: Have you had a similar experience with your social networking?
---
---