Wed., Nov. 16, 2011, 9 a.m.
Hammes: It Just Doesn't Add Up
But while the newspaper coverage of (Spokane Police Chief Anne Kirkpatrick's) resignation was thorough, there was one item that did not receive the attention it merits. Her age. The lady is 52. She decided it was time to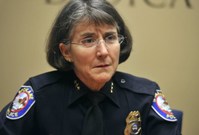 retire at the ripe old age of 52. There was another telling report in the same newspaper a couple of weeks earlier that is also worth a mention. In this case it was a sports report about a very successful high school volleyball coach. The woman ... has coached for many years. Given that, the reporter asked how much longer she planned to coach. While she deflected the question, she did mention that she is eligible to retire anytime she chose. She is all of 53 years old. So the question begs. How many folks working outside of the government could even consider retirement at that age?/Dan Hammes, St. Maries Gazette-Record. More here.
Question: At what age can you afford to retire?
---
---