Thu., Oct. 20, 2011, 10:40 a.m.
Edit: Would MLK Approve Of Statue?
This is old news but it's still worth a mention. Besides, the dedication of the Martin Luther King Memorial this past Sunday makes it somewhat timely. The overwhelming majority agrees it is a beautiful and fitting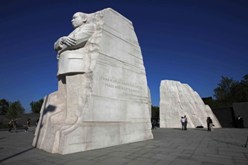 memorial. The 30' granite monument on the National Mall is situated between the Lincoln and Jefferson memorials. But while most agree the memorial is beautiful and fitting, there has been some criticism. The Martin Luther King Memorial was sculpted by a Chinese artist using 159 pieces of point Chinese granite. The fact this country's most recent national monument was 'made in China' prompts the expected sneers and criticism. Certainly there must be a sculptor in the United States capable of producing work to properly honor Martin Luther King. But it's more than that/Dan Hammes, St. Maries Gazette Record. More here. (AP file photo)
Question: Does it bother you that new MLKJr memorial was made in China by a sculptor who sculpted dozens of depictions of Mao Zedung?
---
---