Thu., April 12, 2012, 1:15 p.m.
Zimmerman Makes 1st Appearance
Neighborhood watch volunteer George Zimmerman made his first court appearance Thursday on a second-degree murder charge in the shooting death of Trayvon Martin, as a court document provided new details on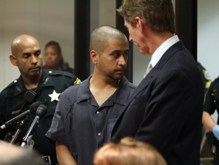 the prosecution's case. During the brief appearance, Zimmerman stood up straight, looked straight ahead and wore a gray prison jumpsuit. He spoke only to answer "Yes, sir," twice after he was asked basic questions about the charge against him and his attorney. His hair was shaved down to stubble and he had a thin goatee, which appeared consistent with his booking photo from the day before. He had resurfaced Wednesday to turn himself in after weeks in hiding. Judge Mark E. Herr said he found probable cause to move ahead with the case and that an arraignment would be held on May 29 before another judge/AP. More here. (AP photo: George Zimmerman, center, stands with his attorney Mark O'Mara, right, during a court hearing today)
Question: Can George Zimmerman get a fair trial in Florida?
---
---