Fri., Feb. 10, 2012, 8:27 a.m.
43rdSB: UI Law School Not To Blame
At 43rd State Blues, Sisyphus addresses the flap between the Idaho Legislature and the UI Law School re: attendance at a diversity training course: "Dean Burnett's response letter is a model of diplomacy providing a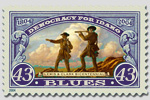 rational and informative response to powerful and vindictive law makers with control over funding for Idaho's only College of Law. Unfortunately the lazy media reports have a totally different characterization, that Dean Burnett was justifiably called on the carpet for heavy handed tactics designed to impugn the reputation of the students, when just the opposite is true. Dean Burnett was endeavoring to save the school the embarrassment of losing accreditation because a few students made discriminatory, prejudicial or comments evincing bias, to the accreditation committee." More here.
Question: Who was at fault in the flap between the Legislature and the UI Law School?
---
---