Fri., Feb. 17, 2012, 8:30 a.m.
Edit: When Teachers Leave Teaching
For every Idaho teacher who left the profession in 2011, there is a personal, unique backstory behind the decision. The inescapable and unsettling truth is, nearly 1,300 teachers made that decision in 2011. A year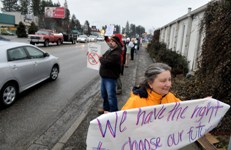 earlier, that number was about 700, according to The Associated Press. Let's just focus on what this means. People on both sides of the divisive issue of school reform should be able to agree on one point: An experienced, talented teaching staff is the cornerstone of a good school. When Idaho teachers leave teaching, in growing numbers, that can't possibly be a desired outcome. On Wednesday, both sides tried to spin the reasons behind the numbers. That isn't surprising, but it also isn't very productive/Kevin Richert, Idaho Statesman Editorial Board. More here. (SR file photo: A March 2011 protest against Luna education reforms in Post Falls)
Question: Do you think Superintendent Tom Luna's "education reform" was a factor in the mass exodus of teachers from Idaho classrooms in 2011?
---
---