Tue., July 10, 2012, 4:55 p.m.
Judge Rules On SR Motion To Quash
Judge John Luster has handed down a split ruling on the Spokesman-Review motion to quash the subpoena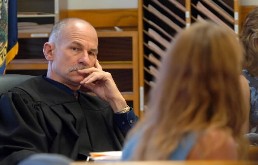 filed by former Kootenai County GOP Central Committee chairwoman Tina Jacobson, seeking the identity of three commenters who post here at Huckleberries Online (Almost Innocent Bystander, Phaedrus & OutofStaterTater). Judge Luster ruled that the Spokesman must provide information that will lead to the identity of AlmostInnocentBystander, whom Jacobson claims defamed her in a Feb. 14 comment. However, the judge agreed to the SR motion to quash the subpoena against Phaedrus and OutofStateTater, ruling that neither made defamatory comments. Therefore, their identities will remain protected. The judge gave the SR 14 days to provide the information sought about AlmostInnocentBystander. You can read the judge's ruling here. (SR file photo of Judge John Luster)
Question: Will this ruling affect your online posting?
---
---