Mon., July 16, 2012, 8:31 a.m.
Press: Clarify Rules For Recall
Sorry, but the recall debate isn't over. In fact, prior to the next session, legislators should put their heads together and talk a great deal about it, then adopt stronger, clearer laws in 2013. Both sides of the recent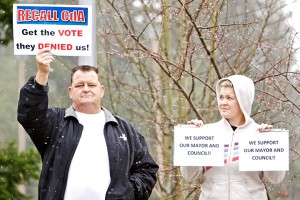 attempt to recall four Coeur d'Alene City Council members are still sorting out the significance of lessons learned, but they can largely agree on the need for clarity in state recall election statutes. One concern is the nebulous nature of the 75-day window from the start of the petition drive to the last moment the petition signatures can be verified. Between the offices of the Secretary of State, the Kootenai County Clerk and the Coeur d'Alene City Clerk, nobody seemed to clearly understand how that 75 days should be divided between collecting signatures, turning them in to city officials and then having the county verify those signatures. The timeline seemed to twist and turn like an unruly river, leaving too much room for arbitrary interpretation/Coeur d'Alene Press. More here. (Jerome A. Pollos Coeur d'Alene Press file photo: Press Jennifer Drake glances over at Michael Sheneman as they stand next to each other at the launch of the unsuccessful recall effort in April)
Question: What do you think needs to be fixed re: Idaho's recall law?
---
---