I have lived here about two hundred feet from and 100 feet above Scenic Bay for Seventeen years. During that time I have suffered tweakers, thieves, loud noise, oh and the occasional murderer. This pine tree in my front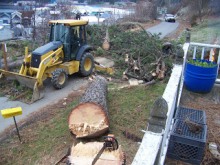 yard has seen it all. It just stood there, tall as can be, quietly, except when a storm came through when it would filter the wind, causing strange sounds to occur. … That old tree shaded my deck just fine, except it took the afternoon sun away from my tomatoes. Every winter, when the chilly winds came through it would shed tons of dead needles, coating my deck up to six inches deep with it's litter. As the needles piled up, they held moisture from the rain and snow that was held there and my deck rotted. I hated that damn tree. Now it is gone/Herb Huseland, Bay Views. More here.
DFO: My wife and I have a love-hate relationship with the magnificent clump birch I planted in my front yard 27 years ago. I love it. She hates it (sez it's too big).
Question: Do you have a love or hate or love-hate relationship with a tree in your life?