Mon., April 1, 2013, 4:45 p.m.
GONI Review: Broken Egg Cafe
The jumbo yellow sun was shining on our puffy little faces more dramatically than it had so far the entire year,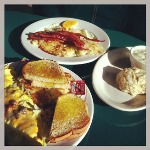 sweeter than the sticky yolk of a Cadbury Creme Egg. Yes, it was Easter Sunday, and despite being up the night before later than may actually be legal in the grand old state of Idaho, my house mate and I were up at 8 am with full-on borborygmi happening in our tummies. It was early enough to beat the post-worship Easter Bonnet crowd to pretty much anywhere we wanted to eat, so I threw a hat onto my Hurricane Helen bed hair, and with bleary, hungry eyes we pointed the car north and rambled up an eerily vacated Government Way to the Broken Egg Cafe. As I had hoped, only ten or so vehicles lined the front of the building, and with an ample amount of tables and a long diner counter, we knew we wouldn't have any trouble at all getting seated pronto/OrangeTV, Get Out! North Idaho. More here.
DFO: Been way too long since we had a restaurant review from OrangeTV.
Question: How do you order your breakfast eggs?
---
---