Thu., April 18, 2013, 1:21 p.m.
Bloomsday To Tighten Security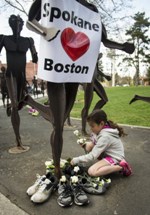 Lilac Bloomsday Association directors say they'll require runners and walkers to show their official race tags before lining up for the start of this year's run. Bloomsday, which occurs on May 5, is the second-largest timed road race in the country. Retired former Spokane Assistant Police Chief Al Odenthal, who now serves as Bloomsday security director, said that's one of several changes in this year's race to ensure greater safety for runners, walkers and spectators at the May 5 event. Those changes follow the explosions of two bombs that killed three people and injured more than 150 at this week's Boston Marathon/Tom Sowa, SR. More here. (Colin Mulvany SR photo of Riverfront Park memorial to victims of Boston bombings)
Question: How many times have you participated in the Bloomsday run?
---
---