Fri., Aug. 2, 2013, 10:31 a.m.
M's Lose When Manager Mixes Signals
In the ninth inning of the Red Sox comeback win over Seattle on Thursday night, Mariners closer Tom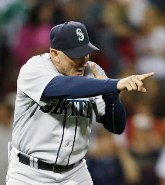 Wilhelmsen allowed the first four Boston batters to reach base safely. Acting Mariners manager Robby Thompson saw that Wilhelmsen clearly did not have his best stuff, and with switch-hitter Shane Victorino and righty Dustin Pedroia due up, Thompson left the dugout to bring in righty Yoervis Medina from the bullpen. But Medina was warming up alongside lefty Oliver Perez, and Thompson mistakenly lifted his left arm when pointing to the bullpen. He quickly realized his error and tried to signal for Medina, but apparently — and, really, who knew? — the arm a manager raises to call for a reliever is more than just a way to let the bullpen know which guy he wants/Ted Berg, ForTheWin. More here.
Question: On a scale of 1 to 10, how much do the Seattle Mariners frustrate you?
---
---