Fri., Feb. 8, 2013, 8:17 a.m.
Fighting To Save Cursive
Coeur d'Alene teacher David Groth recalls a time, less than a decade ago, when kids showed up for fifth grade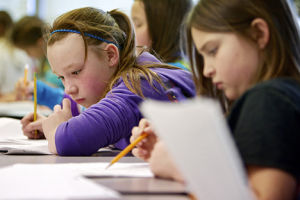 able to read and write cursive, with many of them using longhand regularly. "Learning it was a real rite of passage," said Groth, a 34-year educator now teaching fifth grade at Sorensen Magnet School of Arts and Humanities in Coeur d'Alene. "Kids were excited about it." Those days are gone. This year, Groth has one girl in his class who uses the looping, curving writing form exclusively. He said he no longer uses cursive when he writes instructions or lessons on the board in front of his classroom. "I don't do it that way anymore because inevitably, I'd have three or four kids who couldn't read it," he said. It's a time of transition, Groth said, but cursive is still "part of our world"/Maureen Dolan, Coeur d'Alene Press. More here. (Coeur d'Alene Press photo: Jerome A. Pollos)
Question: We've talked a lot about cursive here. So let's go in another direction. How many of you know shorthand?
---
---