Big Mac: Limit Mass Murder Coverage
Big Mac (RE: Benson: High Noon) Maybe the president can sign an executive order limiting media coverage of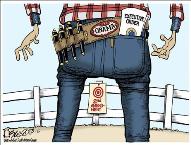 mass shootings. When the founders drafted the Bill of Rights, the most powerful tool the press had was, well, a press. I don't think they could have envisioned today's high tech media, which can use airwaves, fiber optic cables, and satellites to saturate us with violent images. I don't think 18th century technology made it possible for troubled people to become instantly famous and have their face become recognizable to the whole nation within hours of committing a violent act. Clearly the news media need to be limited to ink, paper, and a printing press, as the founders intended. So let's take aim at the First Amendment next.
DFO: I sure hope Big Mac is being facetious.
Question: Would you like to see the president issue an executive order to limit media coverage of mass shootings?
---
---