Thu., Jan. 17, 2013, 8:25 a.m.
A Final Shift At Denny's
Anyone who has dropped by the Coeur d'Alene Denny's in the last few decades knows Shirley Prosch is the kind of waitress they want serving their table. The plucky, tiny-framed woman instantly recognizes regulars,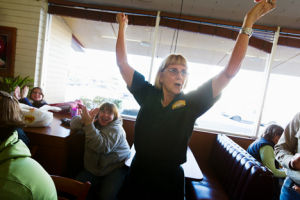 their faces shuffled away in her mental catalogue of favorite orders and inside jokes. She asks after customers' families, she remembers where they work. If someone has an idiosyncratic order they always defer to -- egg whites only, no cheese, fruit instead of hash browns -- she can recite it like rote.Shirley might not be a doctor, but no one can say she hasn't spent her career changing lives. Because since the 68-year-old first donned her apron at the Coeur d'Alene Denny's in 1973, she has made everyone who crosses into her syrup-perfumed turf feel like the most special person in her world/Alecia Warren, Coeur d'Alene Press. More here. (Shawn Gust Coeur d'Alene Press photo: Shirley Prosch cheers Wednesday after counting the last 10 seconds of her final shift at Denney's)
Question: Describe your favorite waiter/waitress?
---
---