Thu., Jan. 31, 2013, 5:18 p.m.
Retracing Final Steps Of UI Student
Near the end, Joseph Wiederrick's footprints cut aimless circles in the snow-covered fields. A popular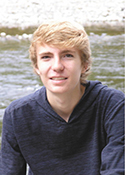 University of Idaho freshman with wavy blond hair, he had walked all night, straying several miles from the heart of Moscow, Idaho, out into the open hills beyond. With a starry sky against the distant mountains, he wandered the endless stubblefields until cold and exhaustion caught up with him. Alone, he eventually came to rest beneath a small bridge, leaving a bright life unfinished and a trail of questions. In the days since, local authorities and loved ones have struggled to understand what drove him out into the unknown. Witnesses say he was drinking, but others thought him lucid. Investigators continue to reconstruct his path, piecing together cell phone calls, brief encounters and his final footsteps/Jacob Jones, Inlander. More here.
Question: Do you know someone who died too young?
---
---