Wed., Oct. 2, 2013, 9:50 a.m.
Purtee: Gotta Toss The Libruls
Here we are at a crossroads for our community. An election not unlike numerous ones before. Where deep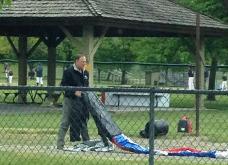 pockets and a liberal stance toward removing Coeur d'Alene from the rolls of "small town America" is lauded. Those candidates, by their stance, do not support the small town embedded values once favored by us all. They likely support the building of more high rise structures for the privileged few, higher taxes caused by subsidizing "urban renewal" and asking the public to take a back seat when it comes to decisions affecting us all. On the other side are the individuals from a more modest background. They have a more conservative approach to growing the community while keeping those community attributes which swayed our decision to reside here in the first place. They are for reasonable salaries for public employees and value public input on major spending projects/Jim Purtee, letter to the editor, Coeur d'Alene Press. More here.
Thoughts?
---
---