Thu., Oct. 3, 2013, 8:43 a.m.
Debate: When Are Public Votes OK?
Item: Candidates Debate: Adam, Herfluth, Miller differ on most issues/Jeff Selle, Coeur d'Alene Press
More Info: They were asked by the Coeur Group, which sponsored a candidate forum at the Coeur d'Alene Public Library Wednesday night, to explain when public votes are appropriate. "I believe in the representative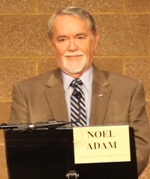 government we have," Miller said. "I believe that each person has elected their officials and they are charged with doing the due diligence to make those decisions for them." Faced with a decision on something that would have "monumental impact on the community," Miller said she would not be opposed to a public vote as long as it was within the law. She said those cases would have to be considered on a case-by-case basis. Adam, pictured, said he would seek the public input if the matter involves a large amount of money. He said $5 million would be a good threshold to go by. Herfurth said he would also support more public votes on the issues, and he would like to explore ways to deal with voter apathy to ensure good voter input in those cases. (Photo: Duane Rasmussen)
Question: How often do you think the city should take public advisory votes?
---
---