Tue., April 1, 2014, 3:25 p.m.
Ranch Dressing Laps Field
Many a gab session of my 1980s suburban youth was fueled by Cool Ranch-flavored Doritos — after school, on a camp-out, on a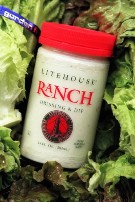 sleepover — whenever the girls got together. We'd seek out that tangy, salty flavor, inhale a bag or two, and lick the red, blue and green flecks off our fingers when they were all gone. (Ah, the pre-calorie-counting days.) Today, ranch flavor is everywhere. American kids love to dip their carrot sticks and broccoli spears and pizza crusts in ranch dressing. It competes with blue cheese as the best happy hour companion to plates of $1 hot wings and bargain beers. In powdered form, it's being mixed into crackers and Chicken Helper. So it was no surprise that the global information company reported today that bottled ranch dressing is the number one dressing shipped to the country's cafeterias, restaurants and institutions/April Fulton, NPR. More here. (SR file photo)
DFO: My favorite dressings? Honey mustard. Thousand Island. Sesame. Ranch? Not so much.
Question: Which salad dressing is your favorite?
---
---