Thu., April 3, 2014, 4:24 p.m.
Army Tat Policy Winnows Recruits
If you want to sign on the dotted line to serve Uncle Sam in the Army, it's going to get a lot harder to make the cut. By the end of April,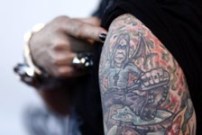 new recruits will be held to the Army's new grooming standards–which include stricter rules on tattoos. "Tattoos are cool thing today, 70-80% of people who come into our office have tattoos. I've seen 15-year-olds with tattoos," said Sergeant First Class Robert Black with the Army Recruiting Command in Norfolk, who says these new policies will cut down on the number of enlisted they can take. If you have a sleeve tattoo–you are eliminated. If you have a tattoo on the face, neck, head, hands or fingers–forget about it/News Channel 3. More here. (AP file photo for illustrative purposes)
Question: Is the Army losing capable recruits by drawing a line in the sand with this new policy?
---
---