THURSDAY, APRIL 3, 2014, 8:23 A.M.
Sky's The Limit For Unmanned Drones
Unmanned aerial systems - drones - are not just a threat to people's privacy or weapons to fight terrorists. They have safe, commercial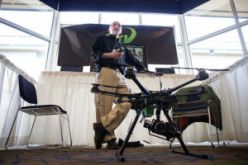 applications that can create jobs and make Idaho's economy stronger and more diverse and businesses more efficient. That was the message at Wednesday's Idaho - Advancing Aviation Manufacturing Expo and Conference at the Best Western Plus Coeur d'Alene Inn. "Everything we talk about in unmanned aircraft systems has to do with Predators and Reapers and the bad Taliban guy getting smacked by a bomb," said Steven Edgar, president and CEO of Advanced Aviation Solutions. Idaho has a lot of room to expand its production and export of agricultural products, and unmanned aerial systems can help. That's just one field of application/David Cole, Coeur d'Alene Press. More here. (Coeur d'Alene Press photo by Gabe Green: Dave Skala of Aerial Technology International discusses some of the benefits and legality issues of unmanned aircrafts)
Question: Does the expansion of drones into civilian life make you nervous?
---
---