Thu., April 3, 2014, 2:58 p.m.
Travel Writer Responds To CdA Query
Like many of you, Suzy Sindelar of Coeur d'Alene was surprised when well-known tourism writer Steve Winston described Coeur d'Alene as a city on a lake with 7,000 foot mountains rising from its shoreline. Winston's descriptions were part of an article naming Coeur d'Alene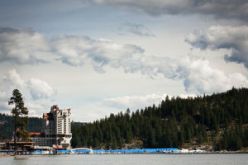 as the Top Mountain Town in the USA. Unlike many of you, Suzy emailed Winston re: the accuracy of his description -- and got this response: "In answer to your question …Yes, I have been to Coeur D'Alene. I was there about three years ago. And in some of my wording in this article, I was apparently not entirely accurate. I believe the sidewalks – at least in part of the town – are red-brick, not cobblestone. So I did use a poor choice of words there. And I believe, as well, that I should have used the word 'style' in describing the streetlamps…as in 'gas-lit-style.' I don't believe there's a town in America that has actual 'gas-lit' streetlamps any more. I have to admit, though, that I do find the reactions to these mistakes interesting, as I've written about this town before, and have had nothing but positive comments from locals. Which is the reason I never thought twice about the characterizations I made in this recent article." More here.
Archives: Lake City: USA's top mountain town
Question: Although the descriptions were a little off, are you pleased that travel writer Steve Winston thinks so highly of Coeur d'Alene?
---
---