MONDAY, APRIL 21, 2014, 11:43 A.M.
Herb Explains Precinct Seat Run
Herb Huseland explains why he's running for Precinct Committeeman from GOPrecinct 4: Aside from an ex wife or two, I seem to be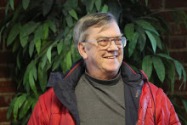 gathering some momentum here. You may ask, why such a big deal over a bottom rung office of precinct committee person? Here's why. The 70 precincts in Kootenai County form as a group called the Kootenai County Central Committee. Since four years ago, reasonable republicans, or traditional if you wish, were bushwhacked. A large contingent of the members of both Libertarian and Constitutional party members, realizing that they were in the minority by a bunch, invaded Kootenai County, entered the precinct races pretty much unopposed, then re-registered as Republicans. Kind of like the wolf in sheep's clothing of nursery rhymes fame/Bay Views. More here.
Question: Do you understand the importance of the precinct committee races this year?
---
---