Wed., April 23, 2014, 8:11 a.m.
43 File To Run As Write-Ins
A total of 43 people have declared themselves write-in candidates for the May 20 primaries, setting up another 12 contested races across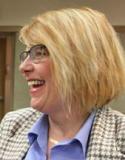 the county. Democrats put up 38 write-in candidates for various central committee precinct seats, and two write-in candidates for county-level seats. That created 10 contested races that include write-in candidates on that party's ballot. The large number of write-in candidates are in response to a handful of Republicans filing in March to get their names on the Democratic primary ballot in an attempt to take over the party's central committee. On Tuesday, Republicans had put up three write-in candidates and created two more central committee races on that party's ballot. Tuesday marked the deadline for filing to become a write-in candidate in the May 20 primaries/Jeff Selle, Coeur d'Alene Press. More here. (Photo by Duane Rasmussen: Susan Mathey is a write-in candidate for GOP Precinct 52 committeeman)
Question: I keep thinking that Larry Spencer's decision to file as a Democratic candidate for county assessor and attempt to take over the Democratic Central Committee is the best thing to happen to local Democrats in some time. It woke them up. Agree/disagree?
---
---