Wed., Aug. 20, 2014, 12:58 p.m.
Pitbull Has Close Encounter w/Cindy
So, I just got back from walking my dog. What? You didn't know I had a dog? Neither did I. This fella started following me a quarter mile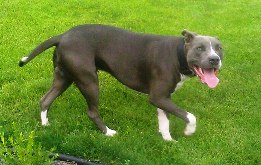 into my walk. Kept trying to shoo him and send him home, but he would have none of it. He stayed closely and happily by my side. I worried he'd run front of a car so when he tried to cross the street, I clicked my tongue and he'd trot back to my side. I circled back to where he first started following me and sure enough, he ran up and sat on the porch of a house. I was really glad because I didn't know how I'd explain him to my cats. My relief was short lived because he immediately started following me again. Lo and behold I spot an animal control truck driving toward us. "This your dog?" the officer asked. "No, but I just took him on a four mile walk," I replied. "What kind of dog is he?" "Oh, he's a pitbull," the officer said. The officer asked how he behaved and I said he was very good other than he wouldn't go home. "Really?" said the officer. "He's been reported as a very aggressive pitbull." I'm going to lay down for a while now. PS: I'd already named Arfie/Cindy.
Question: Have you ever been followed by a loose dog?
---
---