Tue., Aug. 26, 2014, 1:08 p.m.
On The Waterfront: Urinetown Sequel
Walking partner Greg Lee and I inspected the underground parking garage at McEuen Park for signs of party/potty use during our noon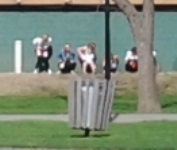 walk today -- and didn't come up with much. We saw some evidence of graffiti painted over in one area and chalk graffiti in another. A Spokane newscaster appeared to be filming the chalk graffiti. Elsewhere, the parking garage appeared to be well-maintained. No poop. No evidence of Urinetown usage. Then, Greg and I began our sweep at 5th Street and headed west. P'haps there was some evidence of graffiti or bathroom usage in the block to the east. Also, it's possible that the city scrubbed the garage in preparation for the front-page story in the Coeur d'Alene Press today. As we all know, from the visit of WSU's Kappa Kappa Gamma sorority May 3, that it doesn't take much for individuals with full bladders to drop trou and relieve themselves, even in City Park. Kappa Kappa Gamma plans to return to Coeur d'Alene sometime this year for a cleanup day. Sorority sisters are going to pick up trash on Tubbs Hill as penance for the indecent exposure by a half dozen of them this spring. It might be nice if they bring along their pails, mops & sponges to clean the parking garage, too/DFO. (Courtesy photo: WSU Kappa Kappa Gamma sorority sisters using back of North Idaho Museum as a peeing wall)
Question: Have you used the underground McEuen parking garage yet ... um ... to park?
---
---