Wed., Aug. 27, 2014, 10:42 a.m.
Local GOP Rejects Arfee Resolution
On the Justice for Arfee Facebook wall, Precinct 52 Committeeman Bjorn Handeen describes running into a brick wall last night when he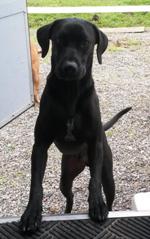 submitted a resolution to protect dogs to the Kootenai County GOP Central Committee. Handeen's resolution urges Idaho Legislature to adopt law similar to one in Colorado: "It was time for another supporter of the resolution to speak, but no one rose. Therefore, the chairman of KCRCC called on another opponent of the motion, Balance North Idaho board member Tom Cronin. He began his remarks with a joke about how we shouldn't want to emulate Colorado. He spoke about how the Colorado bill is a poor one, how it is an unfunded mandate, and that it expands government by creating a statewide panel. It wasn't a bad idea, he said, and suggested this problem should be handled in the licensing and education side. All in all, it was a reasoned and serious speech. His last sentence, contemptuously asking 'couldn't I find anything better than Colorado?' I found unnecessary. I appreciated his serious research and presentation debating the issue." More here.
Question: Do you agree with the local GOP action/inaction toward the proposed dog resolution?
---
---