Thu., Aug. 28, 2014, 3:55 p.m.
Arm Cops w/Cameras, Not BearCats
The Editorial in the Moscow-Pullman Daily News argues that police need to armed themselves with cameras, not more military gear,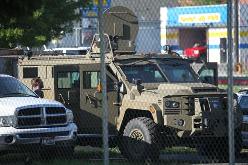 using the mess in Ferguson, Mo., as an example. Another example may be the controversial shooting of a 2-year-old lab by Coeur d'Alene police this summer. The editorial says in part: "What we find confusing is how many of the nation's police forces are equipped with military-grade equipment and not these relatively inexpensive cameras. All that high-tech equipment, best suited for places like Iraq and Afghanistan, has done little to keep the peace in Ferguson, and likely only increased tensions. Who wouldn't be a little on edge at seeing officers decked out in camouflage and armed with assault rifles? Those armored personnel carriers and other vehicles don't help." More here. (File Photo: Duane Rasmussen)
Question: Do you agree/disagree that local police should arm themselves with cameras instead of military gear?
---
---