Fri., Aug. 29, 2014, 1:13 p.m.
80 MPH Limit Bringing More Tickets
Idaho State Police say troopers have handed out more speeding tickets on interstates where speed limits have increased to 80 mph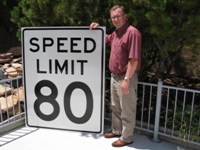 compared to the same time period last year. The agency tells the Idaho Statesman (http://bit.ly/1AXmt2b) in a story on Thursday that some drivers appear to think the new 80 mph speed limit means they can drive 90 mph. But agency spokeswoman Teresa Baker says troopers aren't giving a break on speeding tickets to anyone going over 80 mph. Speed limits on rural sections of Interstates 84, 86 and 15 increased from 75 to 80 mph in late July/AP via Betsy Russell/Eye on Boise. More here. (AP File Photo: Blake Rindlisbacher of the Idaho Transportation Department, shows one of the new 80 mph speed limit signs)
Question: I don't go more than 2-3 miles over any posted limit. And usually simply set my cruise control on the speed limit. In a trip from here to Portland, I lose 15 minutes or so, as a result. But I simply smile and wave when I see the state patrol vehicles lurking along the roadway. How about you? Do you travel over the posted speed limit on highways?
---
---