Wed., Feb. 12, 2014, 5:01 p.m.
Why 'Date Grape Koolaid' Isn't Funny
A troubling issue has arisen in the past week here in Spokane. It involves a brand new bar called Downtown Spokane Daiquiri Factory that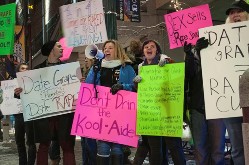 not only thought that calling one of its drinks "Date Grape Kool-Aid" was funny, but that decided to defend it in the face of over a hundred protesters and many more angry online commenters. "It's the name of a drink … Not meant to offend," read the bar's Facebook page. "There is a thing called fun." In the past week, the "date grape" controversy has become national news: from TIME, to Cosmopolitan. Because every media professional I've seen write about this debate has been a middle-aged male, let me just contribute a woman's perspective (though rape is hardly an issue exclusive to females): Rape is never fun. Rape is always offensive/Leah Sottile, Inlander. More here. (Sarah Wurtz's Inlander photo: Protesters gather outside the Spokane Downtown Daiquiri Factory on Feb. 1 to protest the name of a drink on the menu)
Question: Some say that all publicity is good publicity. But I'd say that the owner of Daiquiri Factory and "brain trust" behind "Date Grape Koolaid" might think otherwise today. What would you advise him to do at this point to deflate the controversy (if he was interested in doing so)?
---
---