Tue., July 1, 2014, 8:21 a.m.
Predicting Alzheimers
Diagnosis day is life-changing for Alzheimer's disease patients and their families. But Alzheimer's actually begins years before it's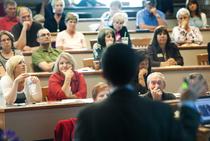 progressed far enough to produce the symptoms – memory problems, disorientation, trouble speaking and writing – that lead to a diagnosis. The disease's "silent phase" can last 20 years, Dean Hartley, science director for the national Alzheimer's Association, told a Spokane audience last week. That's why researchers, along with seeking effective treatments for the fatal disease, are working to identify "biomarkers" of Alzheimer's that signal the disease is already underway or a patient is at risk of developing it, allowing treatment to be delivered earlier/Adrian Rogers, SR. More here. (SR photo by Tyler Tjomsland: Dean Hartley speaks to community members about Alzheimer's research last Tuesday at Gonzaga)
Question: How has Alzheimers affected your life?
---
---