Wed., July 2, 2014, 8:16 a.m.
UI Holds Guns-On-Campus Forum
With concealed firearms now allowed on the University of Idaho campus, security and legal counsel attempted to provide clarity on new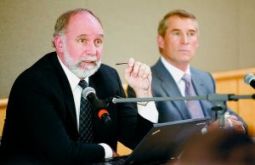 policies Tuesday morning to a crowded room of about 100 staff and students. The open forum was led by Matt Dorschel, the executive director of UI public security and safety, and Kent Nelson, general counsel for the UI. A live feed was also set up with UI branch campuses in Boise, Idaho Falls and Coeur d'Alene, which will be undergoing the same changes from the new state-wide law.Since Senate Bill 1254 was signed into law back in March by Gov. C.L. "Butch" Otter, faculty and students have expressed concerns about allowing those carrying enhanced concealed carry or retired law enforcement officer permits to bring firearms onto university campuses around the state/Samantha Malott, Moscow-Pullman Daily News. More here. (Daily News photo by Geoff Crimmins: Kent Nelson, left, and Matt Dorschel answer questions during an open forum about concealed firearms on UI campus)
Thoughts?
---
---