Thu., July 10, 2014, 3:23 p.m.
CPD Statement RE: Dog Shooting
The Coeur d'Alene Police Department is currently reviewing the officer involved shooting of a dog that occurred yesterday (July 9th) at 821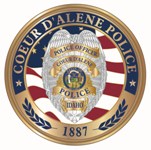 Sherman Ave. Animal Control officers originally identified the dog as a pit bull. The Police Department had a veterinarian examine the dog and it has been identified as a lab mix. We understand the grief the family is dealing with due to the loss of their pet. We also understand the distress this has caused for citizens. The officer who shot the dog is also distraught over this incident. The Police Department has received voicemails and emails threatening in manner toward this officer and the other officers that work for the City of Coeur d'Alene. For these reasons the name of the officer that shot the dog will not be released today. Chief of Police Ron Clark has made it clear this incident will be investigated and reviewed for policy and legal compliance/Coeur d'Alene Police Department.
Thoughts?
---
---