Mon., July 14, 2014, 1:03 p.m.
Jeffrey's Opens On East Sherman
At first this location is a head-scratcher as several eateries have had their problems there and not lasted long. These new folks, however,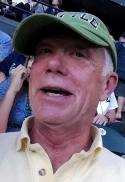 evidently have their ducks - well, eggs, in a row. Jeffrey and Kathy Grossman have had Jeffrey's Restaurant in Lewiston for 29 years. And now they're adding their second place at 1801 E. Sherman Ave. in Coeur d'Alene. The family-style eatery opened this week with breakfast and lunch and offering to-go options, on-site catering and event hosting. Both meals include daily specials and signature items such as their biscuits and (bacon) gravy, a bite-size steak dish, starters, side orders and desserts. Of course, they have all the standard breakfasts, burgers, hot and cold sandwiches, salads and home-made soups. Beverages don't include alcohol. The place seats 36 inside and 16 outside with hours of 5 a.m. to 2 p.m. Monday through Saturday, and has seven employees. Phone 665-9482/Nils Rosdahl, Business Bits, Coeur d'Alene Press. More here.
Question: How often do you eat breakfast at a restaurant? Favorite breakfast restaurant?
---
---