Tue., July 29, 2014, 8:53 a.m.
Edit: Crane Channels 'Tricky Dick'
Nearly a half century ago, President Richard Nixon wrote the modern playbook for politicians in trouble. With evidence of wrongdoing piling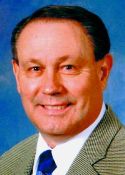 up, accusations flying, friends fleeing and excuses falling flat, Nixon reached deep into his bag of tricks. He denied. He insulted. He obfuscated. He played the victim. Clearly, Idaho Treasurer Ron Crane (pictured) is a student of history. For four terms - 16 years - Idahoans have entrusted billions of dollars to Crane. In return for this responsibility, not to mention his $101,150 salary, Crane has stumbled and bumbled through one misstep after another. It began when legislative auditors asked Canyon County's prosecutor to investigate Crane's use of a state credit card to purchase nearly $8,000 in gas. Crane's defense was he saved taxpayers money by not using a state vehicle for his commute to work -- though a 1996 law said "the use of state vehicles for personal or other nonofficial business is strictly prohibited"/Idaho Falls Post Register. More here.
Question: Do you support/oppose Treasurer Ron Crane?
---
---