Tue., June 24, 2014, 8:48 a.m.
Why Labrador Got Clobbered
Dana Milbank/Washington Post columnizes that Tea Party has won the ideological battle with mainstream Republicans. And that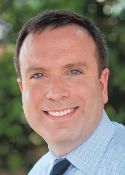 Congressman Raul Labrador's loss in the House Majority Leader race to California's Kevin McCarthy is a matter of personality, not ideology: "The real split among congressional Republicans is between the bomb-throwers and the legislators. On Thursday, the bomb-throwers lost badly. Those who followed the old-fashioned rules of politics - building relationships, trading favors, balancing regional interests -- prevailed.That's how to understand why McCarthy, with his 72 percent conservative rating for 2013, trounced the 100 percent Labrador. In an interview with my Washington Post colleague Robert Costa earlier in the week, Labrador said of McCarthy: "I hear he does know the names of spouses, which I guess is a big issue. But you know, this shouldn't be about personalities." As Labrador learned Thursday, it is all about personalities. Full column here.
Question: Does Raul Labrador have the personality to be an effective consensus builder in Congress?
---
---