Mon., June 30, 2014, 8:50 a.m.
Knowing Where Crane's Skeletons Lie
Nobody knows better than Deborah Silver the hurdle confronting her. Somehow, the Democratic challenger to state Treasurer Ron Crane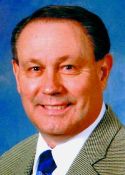 must pierce the GOP body armor shielding him from a public backlash. Crane has remained in office these past 16 years by keeping his head down and relying on his status as a Republican incumbent in a solidly GOP state. As far as anyone can tell, he has never debated any opponent in the statewide public television debates. Twice, he's faced no Democratic opposition at all. But Silver, a certified public accountant, knows where the bodies are buried -- and Crane's record looks like a cemetery/Marty Trillhaase, Lewiston Tribune. More here.
Question: After reading this editorial, are you ready to consider another option to veteran state Treasurer Ron Crane?
---
---